2017 Pro Agribition Rodeo
Aggregate Titles In Jeopardy After Pool B Competitors Rock Leaderboard
Aggregate Titles In Jeopardy After Pool B Competitors Rock Leaderboard
When the lights went out tonight at the 2017 Pro Agribition Rodeo, the leaderboard had been shattered.
Nov 25, 2017
by Jennifer Zahn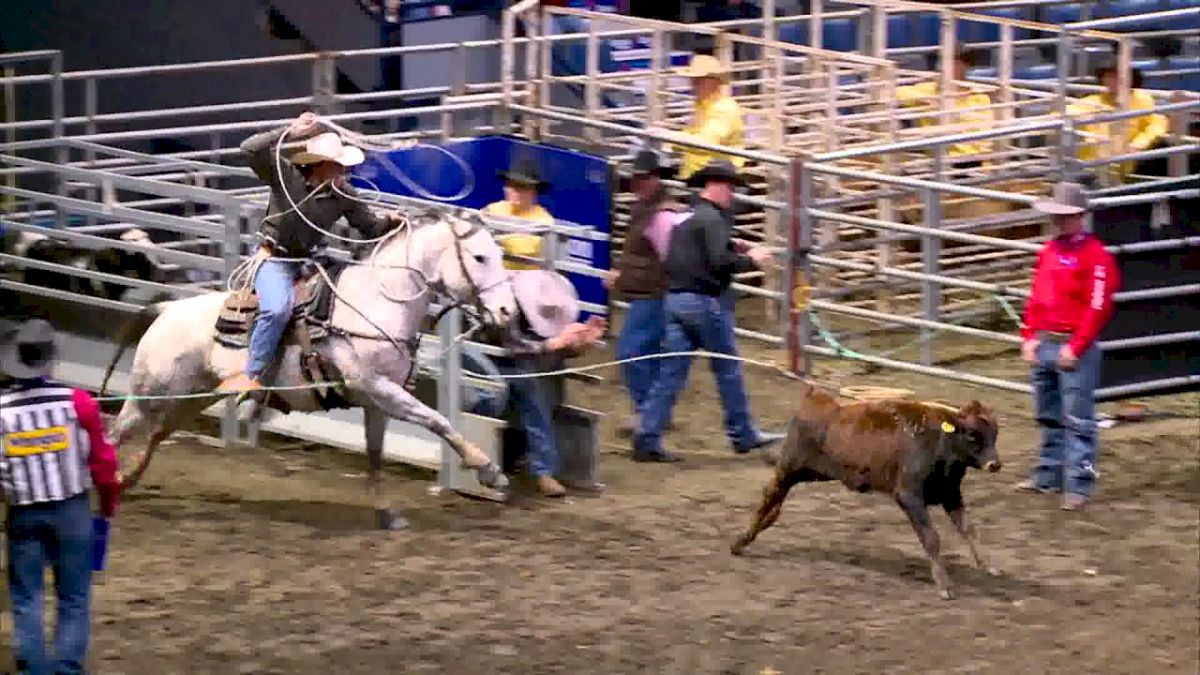 If you were entertained by Pool A's performance at the 2017 Pro Agribition Rodeo, you haven't seen the half of it! Friday night meant Pool B was in town, and when the lights went out on tonight's performance, the leaderboard had been shattered in almost every event.
Pool B's competitors posted some of the best rides and runs we've seen all week, with multiple contenders edging out Pool A to take home the money in round one. Many aggregate titles will also be in jeopardy after some competitors set themselves up for an easier day tomorrow.

There were only two events that didn't see a change to the No. 1 spot in the leaderboard, starting with bareback riding.

Dantan Bertsch paired up with C5 Rodeo's "Fabio" and put on a show. Their score of 82 points was not high enough to edge out Ky Marshall's 83.5-point score in round one, but Bertsch will take home a third-place cheque in the round, and he still has a chance in the aggregate if he can score more than 84 points tomorrow night.

Marshall leads the way in the aggregate with 166 points on two.

In the steer wrestling, the reigning Canadian All-Around Champion topped the leaderboard with a 3.9-second run to win round one. Morgan Grant will take home the first-round cheque worth more than $1700 and set himself up for a chance to be No. 1 in the aggregate tomorrow.

Many team ropers spend some time working on their partnership before they head to the rodeo, but the top team in round one just met today! Brady Tryan and Tristan Woolsey paired up together because neither of their partners qualified to compete at Agribition, and they finished their first run together in first place! Their 4.7-second run won round number one and put them in striking distance in the aggregate race.

Brett and Justin McCarroll led the way in the average with 10.1 seconds on two head, so Tryan and Woolsey will need to be faster than 5.4 tomorrow to take the title.

We can't help but love an underdog story, and that's what is shaping up in the saddle bronc riding. Kirk Thompson just completed his rookie year in the Canadian Professional Rodeo Association, and the Manitoba cowboy now sits atop the leaderboard in round one with an 82.5-point ride on C5 Rodeo's "High Valley."

He will go up against reigning Canadian saddle bronc champion Layton Green, who leads the way in the aggregate with 164 points on two horses. Thompson needs a score above 81.5 points to unseat Green.

Callahan Crossley treated fans to the first 13-second run of the week—her time of 13.987 easily put her in first place and gives her a good cushion to come back well in the aggregate. Crossley's 19-year-old horse enjoys the small arena setup too, so watch out for another fast run tomorrow!

Crossley will only have to beat a time of 14.722 to best Kylie Whiteside, who currently sits in first in the barrel racing aggregate with her total time of 28.709.

Perhaps the biggest lead we've seen so far is Rhen Richard's in the tie-down roping, whose time of 7.5 seconds puts him more than a second ahead of the competition in round one. The Roosevelt, Utah, cowboy also gives himself room for error in the aggregate race—he needs a 12.2 or faster to best the current aggregate leader held by Stetson Vest at 19.8 seconds on two.

C5 Rodeo's "Swamp Monster" and two-time PBR Canadian champion Zane Lambert picked up a fourth-place cheque in round one with their score of 82 points. The bull riding was the only other event that didn't see a leaderboard change, but Lambert is already looking ahead to the mountain he'll need to climb in the aggregate.

As the only bull rider to make a qualified ride in Pool B, Lambert is the only competitor from his pool with a chance to win the average, but he'll have to earn more than 87 points to do it. Jared Parsonage is the No. 1 bull rider in the aggregate with a combined score of 169 points on two.

The final night of the Canadian Western Agribition's pro rodeo will go down tomorrow at 7 p.m. CST LIVE on FloRodeo—don't miss the action as we crown the champions of the first professional rodeo of the CPRA season!
---
By Katy Lucas