2017 Cinch Boyd Gaming Chute Out
CINCH Boyd Gaming Chute-Out Touts World-Champion Competitors for 2017
CINCH Boyd Gaming Chute-Out Touts World-Champion Competitors for 2017
Check out the world-champion rodeo talent set for the third-annual CINCH Boyd Gaming Chute-Out!
Nov 21, 2017
by Jennifer Zahn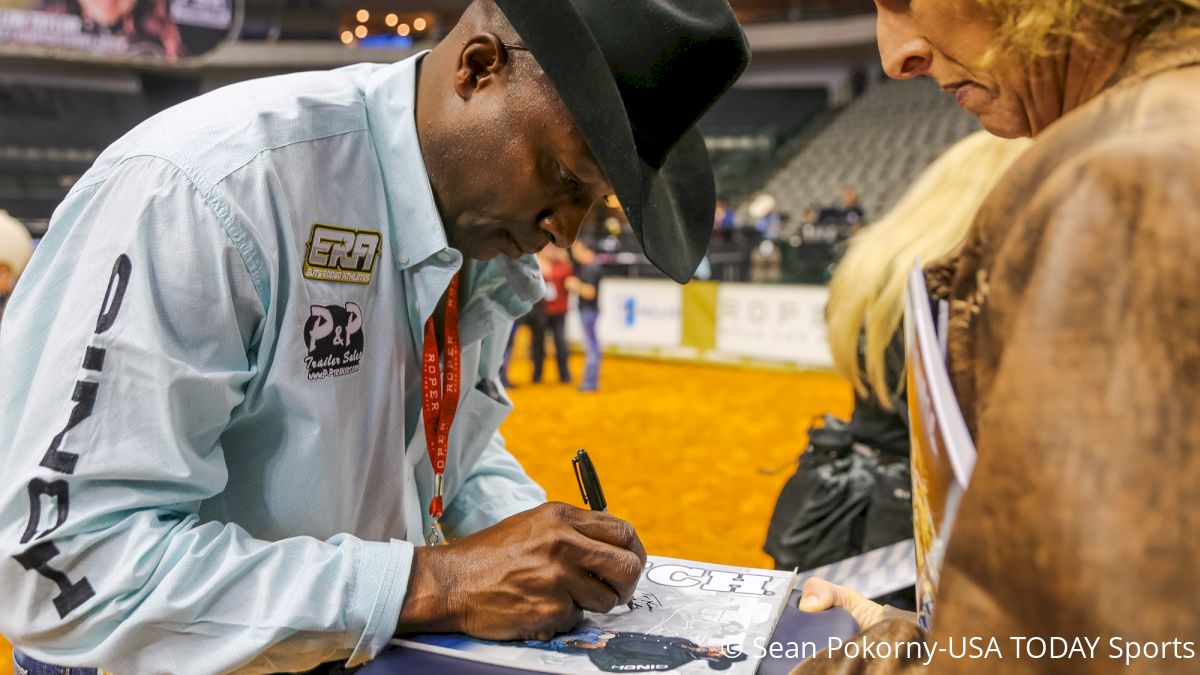 Press release provided by Boyd Gaming
LAS VEGAS — Boyd Gaming has unveiled the full roster of competitors and world-champion rodeo talent set to compete in the third-annual CINCH Boyd Gaming Chute-Out, happening Dec. 7-9 at the Orleans Arena in Las Vegas.
Some of rodeo's biggest names will be competing in this year's Chute-Out for a purse totaling more than $200,000, including fan-favorite and world champion Fred Whitfield in Tie-Down Roping and four-time world champion bull rider JW Harris. Additionally, seven-time WNFR qualifier and Iowa native Wade Sundell, who made headlines in the rodeo world with his $1 million win at the RFD-TV The American rodeo last year, will put his skills to the test in Saddle Bronc Riding.

Competitions within the Chute-Out event include Bareback Riding, Steer Wrestling, Saddle Bronc, Tie-Down Roping, Team Roping, Barrel Racing and Bull Riding. Check out some of the headliners in each category below:

Bareback Riding
Steven Peebles; Tilden Hooper; Shane O'Connell; Kaycee Feild; Winn Ratliff; Justin Miller; Yvan Jane; and Jessy Davis.

Steer Wrestling
Hunter Cure; Straws Milan; Billy Bugenig; Matt Reeves; Josh Peek; Clayton Hass; Jacob Talley; and Jason Thomas.

Saddle Bronc
Wade Sundell; Cort Scheer; Spencer Wright; Bradley Harter; Rusty Wright, son of two-time world champion Cody Wright; JJ Elshere; Allen Boore; and Isaac Diaz.

Tie-Down Roping
Fred Whitfield; Monty Lewis; Adam Gray; Josh Peek; Blane Cox; Cody Quaney; Ace Slone; and Cimarron Boardman.

Team Roping
Derrick Begay and Clay O'Brien Cooper; Jake Barnes and McCoy Profili; Lee Kiehne and Rich Skelton; Jake Orman and Will Woodfin; Hayes Smith and Clint Summers; Matt Sherwood and Kyle Lockett; Levi Simpson and Buddy Hawkins; and Marcus Theriot and John Robertson.

Barrel Racing
Taylor Jacob; Tammy Fischer; Kelly Tovar; Ari-Anna Flynn; Christine Laughlin; Sherry Cervi; Jana Bean; and Jackie Ganter.

Bull Riding
JW Harris, plus Shane Proctor; Stetson Lawrence; Brett Stall; Brady Portenier; Tristan Mize; Tyler Bingham; and Chase Dougherty.

Guests looking for opportunities to further interact with the event and competitors are encouraged to download the free Boyd Gaming Chute-Out app, which was introduced during the event's inaugural year, for live scoring and results, contestant information, exclusive videos, information on events and instant access to the latest Chute-Out news. In addition, the CINCH Boyd Gaming Chute-Out will once again be the only rodeo event listed in the sportsbooks at Boyd Gaming properties during rodeo week, allowing fans to wager on their favorite riders.

The CINCH Boyd Gaming Chute-Out complements Boyd Gaming's significant involvement during rodeo week in Las Vegas, including events like the National Finals Tonight® Show and the Legendary Buck'N Ball® at The Orleans Hotel and Casino and Bob Tallman's Celebrity Bowling Tournament at Gold Coast Hotel and Casino.

To purchase tickets to the CINCH Boyd Gaming Chute-Out, or for information on Boyd Gaming Rodeo Week events and entertainment and room and ticket packages, visit www.BoydGamingEvents.com.

Join the conversation online with the hashtag #BoydChuteOut.

About Boyd Gaming
Headquartered in Las Vegas, Boyd Gaming is a leading diversified owner and operator of 24 gaming entertainment properties located in Nevada, Illinois, Indiana, Iowa, Kansas, Louisiana and Mississippi. Additional news and information on Boyd Gaming can be found at www.boydgaming.com.