2017 Pro Agribition Rodeo
New Faces At The Canadian Western Agribition
New Faces At The Canadian Western Agribition
The Canadian Western Agribition is here in Regina, Saskatchewan, starting tomorrow. The rodeo brings together some of Canada's best cowboys.
Nov 21, 2017
by Hunter Sharpless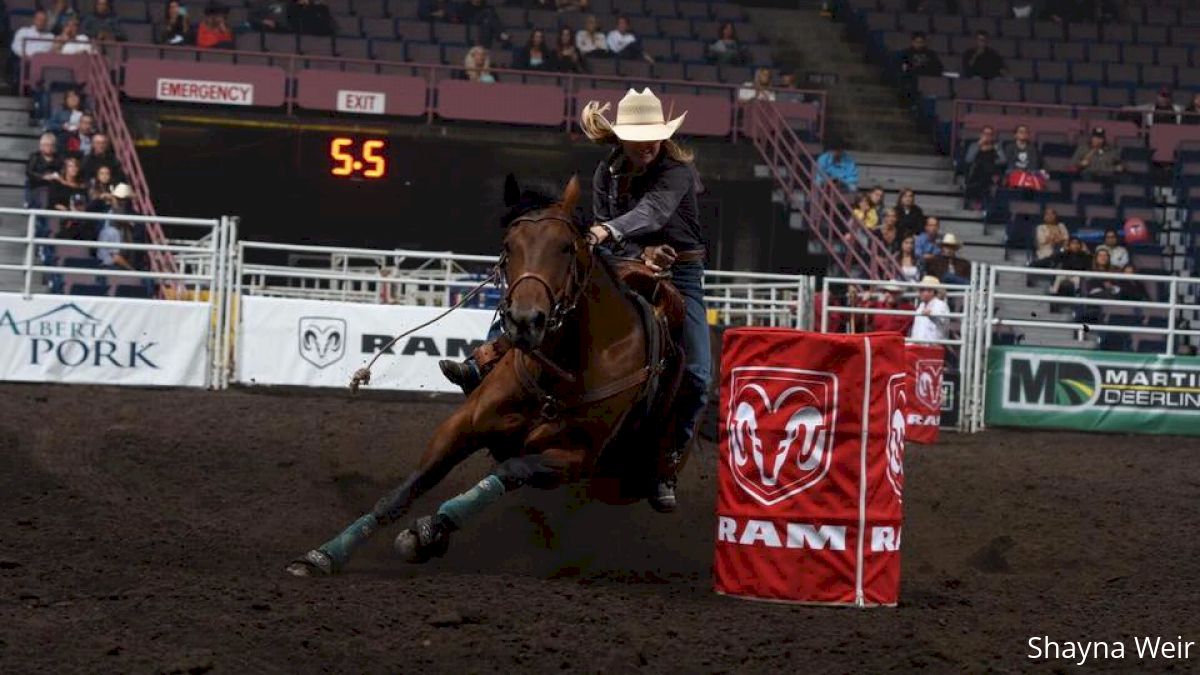 While there will be many familiar faces at this year's Canadian Western Agribition in Regina, Saskatchewan, here's a rundown on some new faces you probably haven't met yet.
These competitors have yet to make their first Canadian Finals Rodeo appearance in a major event, but the 2017 season showed promise and earned them a spot to compete at the Canadian Western Agribition, which begins tomorrow and airs live right here on FloRodeo.
Shayna Weir | Ladies Barrel Racing
Weir finished 14th in the Canadian Professional Rodeo Association (CPRA) standings for 2017, a career best for her and one she hopes to top in the 2018 season. You may recognize Weir by her maiden name. She grew up as a "Dodds" in the famous rodeo community of Ponoka, Alberta, and has four CFR qualifiers in her family to draw on for inspiration: her father Joe, uncle John, and cousins Jordan and Jake are all past competitors at Canada's premier rodeo.
Weir will be running her main mount, "Moons Dyna," simply known as "Dyna," at Agribition; the duo had wins at the Moose Mountain, Bonnyville, and Oldstoberfest pro rodeos this year and will be looking to expand on their success during the 2018 season.
Lane Watt | Saddle Bronc Riding
Watt quietly picked his way to his best season in the CPRA. Finishing 18th in the Canadian standings, Watt may have not made waves with huge wins this year but the Irma, Alberta, cowboy put over $8,000 in the bank and qualified himself for the Canadian Western Agribition. Watt has seen success in the rodeo arena in the novice and amateur ranks, qualifying for the CFR in the Novice Saddle Bronc Riding in 2012 as well as the Wildrose, Lakeland, and Foothills amateur rodeo associations.
He now sets his sights on qualifying for the CFR and Columbia River Circuit Finals in Yamika, Washington, in the 2018 season.
Coy Robbins | Bull Riding
Some readers may recognize the name of Coy Robbins, and he's surely grown up since you last saw him in Edmonton for the Canadian Finals Rodeo. The 2014 Canadian steer riding champion is now playing with the big boys in bull riding, and did quite well in his rookie year despite the fact that he couldn't compete in the CPRA or Professional Bull Riders (PBR) associations until he turned 18 in June.
Even after missing a large part of the season, Robbins finished in 20th spot in the CPRA, went on to become the PBR Canada Rookie of the Year, and competed at the PBR Global Cup for Team Canada. The Camrose, Alberta, cowboy also had amateur rodeo success this year, becoming the 2017 Lakeland Rodeo Association Season Leader for the second year in a row.
Ben Robinson | Tie-Down Roping
Innisfail, Alberta, is home to a family synonymous with tie-down roping. If you were a rodeo fan in the 1980s and '90s, you'd have to have been living under a rock to not know the name Larry Robinson. He was a 19-time Canadian Finals Rodeo qualifier, six-time Canadian champion tie-down roper, and seven-time National Finals Rodeo qualifier.
That career is quite a path to follow for his son, Ben Robinson, but he's well on his way to becoming a well-known name on both sides of the border himself. Wins in Bismarck, North Dakota, Fort Mohave, Arizona, and Redmond, Oregon, and then a last-minute surge in the CPRA rodeo season made rodeo fans take notice and saw Robinson just two spots shy of his first CFR qualification. He has goals to qualify for the CFR and Montana Circuit finals in 2018 and says a win at Agribition would have him well on his way.
Dillon & Dawson Graham | Team Roping
Heads turned when this pair of brothers rattled off a 3.7-second run late this season at the Pincher Creek Pro Rodeo. It wasn't the first pro rodeo that Dillon and Dawson Graham won this year, but whenever you can break the four-second barrier in the team roping, fans and fellow competitors take notice. These Wainwright, Alberta, cowboys were named the CPRA rookies of the year in the team roping in 2016, and finished their 2017 season out in the 16th and 17th spots in the standings.
Dillon and Dawson are just 16 and 18 years old, respectively, but already the pair has set the goal to be at the Canadian Finals Rodeo next year. Historically, the $12,300 in added money would have been split between the header and heeler, but with Agribition having equal money in the team roping, a big cheque there could make a huge difference in checking off that goal next year.
Check out these up-and-comers and veterans alike on FloRodeo's LIVE stream of the Canadian Western Agribition November 22-25! The action starts tomorrow.
---
By Katy Lucas