The 5 Best Cowboys In San Angelo Roping Fiesta History
The 5 Best Cowboys In San Angelo Roping Fiesta History
The 2017 San Angelo Roping Fiesta is upon us, with some great cowboys participating: Cody Ohl, Tuf Cooper, and Ryan Jarrett among them.
Oct 27, 2017
by Hunter Sharpless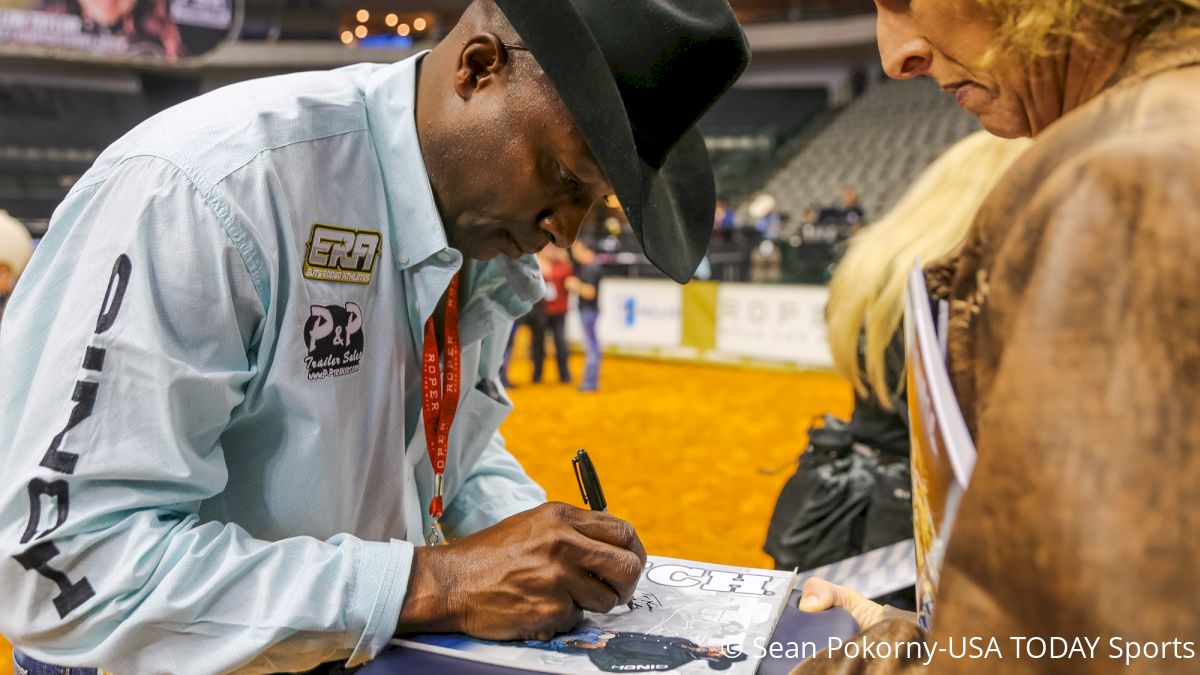 By Lincoln Shryack
The 2017 San Angelo Cinch Roping Fiesta celebrates its 63rd anniversary this weekend by hosting some of the world's finest cowboys in the tie-down and steer roping events. The majority of this year's NFR qualifiers in tie-down square off at the Rodeo Fairgrounds in San Angelo, Texas, including the world's No. 1-ranked all-around cowboy Tuf Cooper and two-time defending match roping champion Ryan Jarrett.
You can catch all the action LIVE on FloRodeo this Saturday, October 28.
The match roping competition, which pits two ropers against each other, is one of the premier events and will pay $20,000 to the winner.
To celebrate the arrival of this year's Roping Fiesta, we're taking a look back through the history of the event to highlight some of the dominant cowboys that have competed in San Angelo. With 63 years of roping in the books, these athletes have set themselves apart from the rest.
1. Cody Ohl
Match Roping And Calf Roping
Six-time world champion Cody Ohl in the winningest cowboy in San Angelo Roping Fiesta history thanks to the astounding 15 match roping titles he's accumulated over two decades of competition. From 1996 to 2016, Ohl has only failed to win the event six times, and he finished second in each of those years. The Rosenburg, Texas, cowboy's match roping dominance has included a decade of consecutive victories from 2000-2009. Ohl also won the San Angelo tie-down in 2001.
2. Roy Cooper
Match Roping And Calf Roping
The current patriarch of rodeo royalty, ProRodeo Hall of Famer Roy Cooper established his San Angelo legacy by winning nine match roping titles and three more in tie-down. The nine-time NFR champion won two-straight San Angelo match roping titles on four separate occasions between 1977 and 1988, with his final win coming in 1991. Cooper's world champion son, Tuf, has since won two titles in the event, and will be in San Angelo this weekend.
3. Jim Bob Altizer
Match Roping, Calf Roping, And Steer Roping
Widely known as one of the greatest match ropers in rodeo history, Jim Bob Altizer won the San Angelo event eight times in during his hall of fame career in the 1960s and 70s. Altizer ultimately completed the San Angelo triple crown, as he won titles in tie-down (1965) and steer roping (1967) as well. The two-time world champion was inducted into the PRCA Hall of Fame in 1979.
4. Sonny Davis
Steer Roping And Calf Roping
New Mexico's Sonny Davis holds a San Angelo record that may never be equaled. Davis won his first Roping Fiesta title in steer roping in 1957 at age 22, and his last crown a remarkable 21 years later as a 43-year-old in 1978. The cowboy collected five other steer roping victories in San Angelo in the two decades in between.
5. Fred Whitfield
Calf Roping And Match Roping
Fred Whitfield might be best known for his epic 84-second tie-down of 10 head at 1997 NFR to claim the aggregate title, but the eight-time world champion has a storied history at San Angelo as well. The 50-year-old cowboy has won the match roping and tie-down crowns each four times over his career, including a three year run in calf roping from 1994 to 1996. Although his last victory at San Angelo came in 2006, the ProRodeo Hall of Famer can still sling it with the young guns and he'll be competing in his signature event this weekend at the Rodeo Fairgrounds.