2017 Tri-State Rodeo CINCH Shoot-Out
Junior Nogueira's Wild Ride From Brazil To A World Championship Title
Junior Nogueira's Wild Ride From Brazil To A World Championship Title
Nogueira is enjoying more stellar results this year, having won nine rodeos. He hopes to make it ten at the Tri-State Rodeo CINCH Shoot-Out in Fort Madison, Iowa, which starts tomorrow--the same day he turns 27.
Sep 5, 2017
by Jennifer Zahn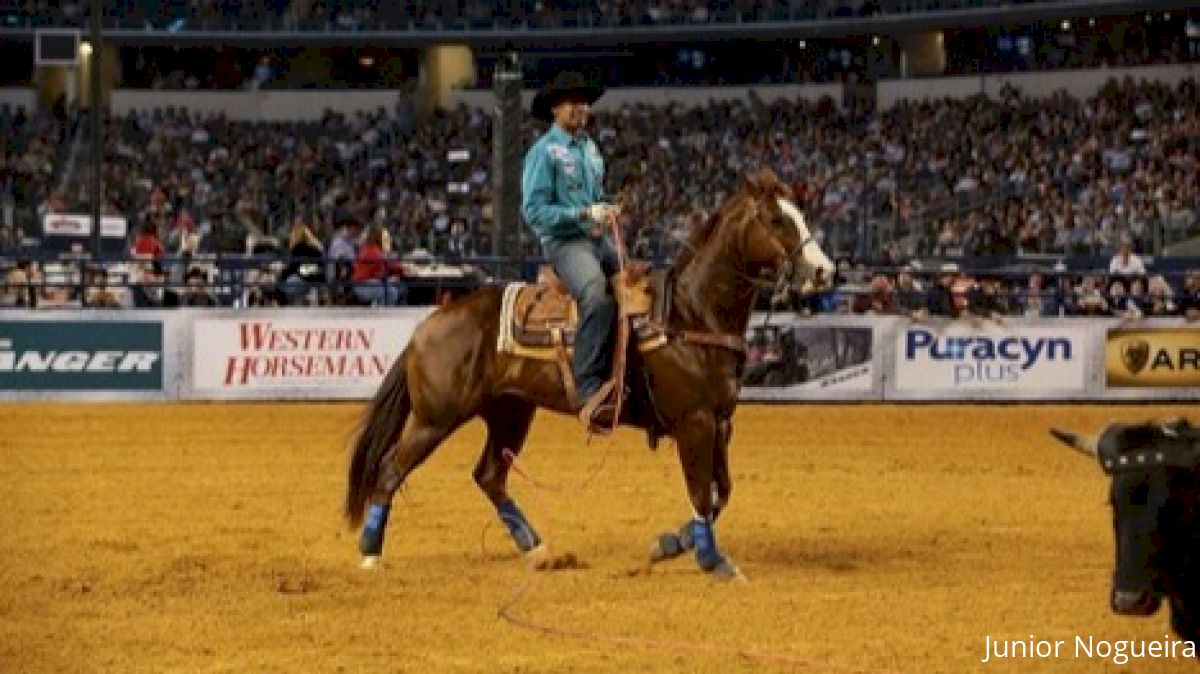 By Storms Reback
When Junior Nogueira visited fellow roper Robert Reynoso in Gilbert, Arizona, in 2013, he didn't plan on staying very long. He arrived with only $500, his spurs, and a vague desire to meet some of the many pro cowboys who lived in the area.
"It's true," Nogueira said during a phone conversation last week after riding in the Ellensburg Rodeo's slack round. "I just came here for a week. And then I ended up meeting Jake."
As in, Pro Rodeo Hall of Famer Jake Barnes.
Four years later, Nogueira is enjoying stellar results, having won nine rodeos. He hopes to make it ten at the Tri-State Rodeo CINCH Shoot-Out in Fort Madison, Iowa, which starts tomorrow, the same day that Nogueira turns 27.

Reynoso grew up with Barnes's son Anthony, so Nogueira's introduction to Barnes came easy. Barnes was hosting a roping school at the time and invited Nogueira to come hang out. At the end of the day, Barnes invited Nogueira to rope with him and, intrigued by what he saw, asked Nogueira to come back the next day. While they roped two steers together the following morning, Barnes saw enough talent and potential in Nogueira to suggest they team up for the 2014 season.
"I couldn't believe it," Nogueira said. "I grew up watching him, and he was my hero. I love Jake. He taught me everything I know today."
For a seven-time world champion team roper to partner with a complete unknown may sound shocking, but Nogueira was only an unknown in the U.S. In Brazil, he became a star after winning the country's biggest roping competition seven times (and earning two horse trailers, nine cars, and 54 motorcycles) after going pro when he was 14.
[instagram url="https://www.instagram.com/p/BV0M0AABdXK/?taken-by=junior_nogueira101" hide_caption="0"]
Having grown up on a ranch near Presidente Prudente, Brazil, Nogueira comes from a true rodeo family. His mother was a breakaway roper and header, his father an accomplished tie-down roper. Junior's father helped him rope his first steer when he was four years old, but a year later, his dad had a heart attack while roping calves and died sitting on his horse.
In his father's absence, Junior's grandfather took on a greater role in his life.
"He was the man who raised me," Nogueira said. "He used to go to the ranch with me every day. He was pretty much my dad."
Junior teamed up with his mother whenever she needed a heeler, and when he was six she took him to a roping school hosted by world champion heeler Allen Bach. He also watched Bach's instructional DVDs as well as those produced by other accomplished team ropers such as Clay O'Brien Cooper and Jake Barnes.
Fast forward 18 years, and Nogueira found himself riding with one of those legends on the PRCA tour. It would be considered a dream come true if only Nogueira dreamed so modestly. He wanted to win the PRCA Resistol Team Roping Heeler Rookie of the Year award, but a funny thing happened along the way.
"At first we were just trying to win rookie of the year," Nogueira said. "Everything started working out really good, and after a while we said, 'We're trying to win rookie of the year? We already got the rookie of the year. Let's try to make the finals!'"
He succeeded in doing both, becoming the first Brazilian to win rookie of the year and qualify for the Wrangler National Finals Rodeo (NFR) on his way to earning $136,036 for the year. These were the first of many "the first Brazilian to" accomplishments of his rodeo career.
[instagram url="https://www.instagram.com/p/BNC89GGhuvX/?taken-by=junior_nogueira101" hide_caption="1"]
That's not to say that Nogueira's early success came easily. There were plenty of bumps in the road along the way.
One was the language barrier. When he first arrived in the U.S., Nogueira's English was so poor he had a difficult time communicating with others, even Barnes. Unable to effectively converse with his partner, Nogueira would often wait for Barnes to leave the box, using his departure as a signal to do the same.
"It was hard," Nogueira admitted. "It's a long process, a lot of work. You can't talk to nobody. You can't say nothing, and you don't understand nothing. It's getting better, but I'm still working on it."
The cattle used for roping in the U.S. (mostly horned Corrientes) also handle differently than those used in Brazil (mostly Brahman muleys), forcing Nogueira to adjust his roping style.
"The cows back home are way different," he explained. "Sometimes they have a horn, sometimes they don't. We rope them all by the neck. It's very easy for me to do it that way. After doing it like that for 20-something years, it was hard for me to change."
Nogueira faced two other obstacles his first year on the tour: he didn't have his own horse -- for the 2014 NFR, he borrowed one of Bach's, a palomino gelding named Jaguar -- and his visa was running out.
Both problems were solved in February 2015 when he contacted Texas trainer Robbie Schroeder, who Nogueira had met years earlier at the United States Team Roping Championships and who Nogueira calls "a heck of a horse man." Schroeder found Nogueira a 10-year-old gelding named Pepper's Homespun Kid. Nogueira loved the horse but not the name. He changed it to Green Card, which proved prescient, as the success the horse and rider have enjoyed together has allowed Nogueira to extend his stay in the U.S.
Green Card perfectly suited Nogueira's hard-charging style. Nogueira needed a horse that kept moving around the corner, didn't turn and stop, and never got too excited. Green Card does all of those things and more -- a horse so forgiving he allows Nogueira to heel steers from almost any position.
[instagram url="https://www.instagram.com/p/tqlu7OPyg_/?taken-by=junior_nogueira101" hide_caption="1"]
As much success as Nogueira and Barnes enjoyed roping together, their partnership was often severely tested. The first ordeal they faced together came in 2014 when they got in a wreck on their way to a rodeo in Rapid City, South Dakota, that left their truck and trailer totaled.
Barnes was no stranger to horrific accidents. During the 2005 NFR, he'd lost his right thumb after it got caught in his rope. As gruesome as that injury was, it paled in comparison to the one that befell him during a practice run five days before the start of the 2015 NFR. After his horse slipped, Barnes went to the ground, and his horse stepped on him, leaving him with a broken ankle and a severe brain injury.
"It was bad," said Nogueira, still shaken by the incident nearly two years later. "Really, really bad."
Nogueira's distress was understandable. Barnes wasn't just his roping partner. He was a mentor, friend, and surrogate father. He'd not only taught Nogueira the ins and outs of the business, he'd even put Nogueira up in his house in Scottsdale, Arizona.
With Barnes sidelined for the NFR, Nogueira teamed up with JoJo LeMond and finished fourth, with earnings of $198,737. The following year, he teamed up with Kaleb Driggers and enjoyed even more success, but in keeping with his history it didn't come easy.
"I hurt myself roping calves and got a really bad injury to my leg," said Nogueira. "Then my grandpa passed away two weeks before the [NFR] Finals. I was heartbroken."
Despite his sadness and his insistence that he and Driggers didn't perform very well, Nogueira walked away from the 2016 NFR with a gold buckle, becoming the first Brazilian to win the all around world title after earning $231,728.
Now residing in Burleson, Texas, Nogueira is a living embodiment of the American dream. In four years on the PRCA tour, he's won $571,781, but his success has come with a steep price. He's so busy going from one PRCA event to the next he rarely has time to visit his mother and sister in Brazil.
"We almost don't have no break," he said. "We don't have a lot of time off. I love rodeo, but I miss my family, too. That's the worst part for me, being alone, being by myself. It's hurt me a lot. I don't know if I want to stay here or go home one day. We're just going to wait and see."
In the meantime, Nogueira is proud to represent Brazil as the reigning world champion.
"That title means a lot to me and my people," he said. "Somebody from a different country did it. It means everything is possible. You just have to be ready to take it."
How To Watch Tri-State Rodeo CINCH Shout-out

ON TV
: Now available on Roku and Apple TV 4
STREAMING
: Available only on FloRodeo. A yearly FloPRO subscription provides access to ALL FloSports sites.
SIGN UP HERE
Join The Conversation On Social
Follow us on Twitter
@FloRodeo
Follow us on Instagram
@FloRodeo
Follow us on
Facebook
Like what you see? Sign up for our newsletter to stay current on all the latest rodeo news and your favorite content from FloRodeo.