Kelly Conrado Shares His Knowledge And Passion About Training Barrel Horses
Kelly Conrado Shares His Knowledge And Passion About Training Barrel Horses
Kelly Cornado shares his knowledge and passion about training barrel horses through his experiences.
Jun 13, 2017
by Cassie Emerson Emerson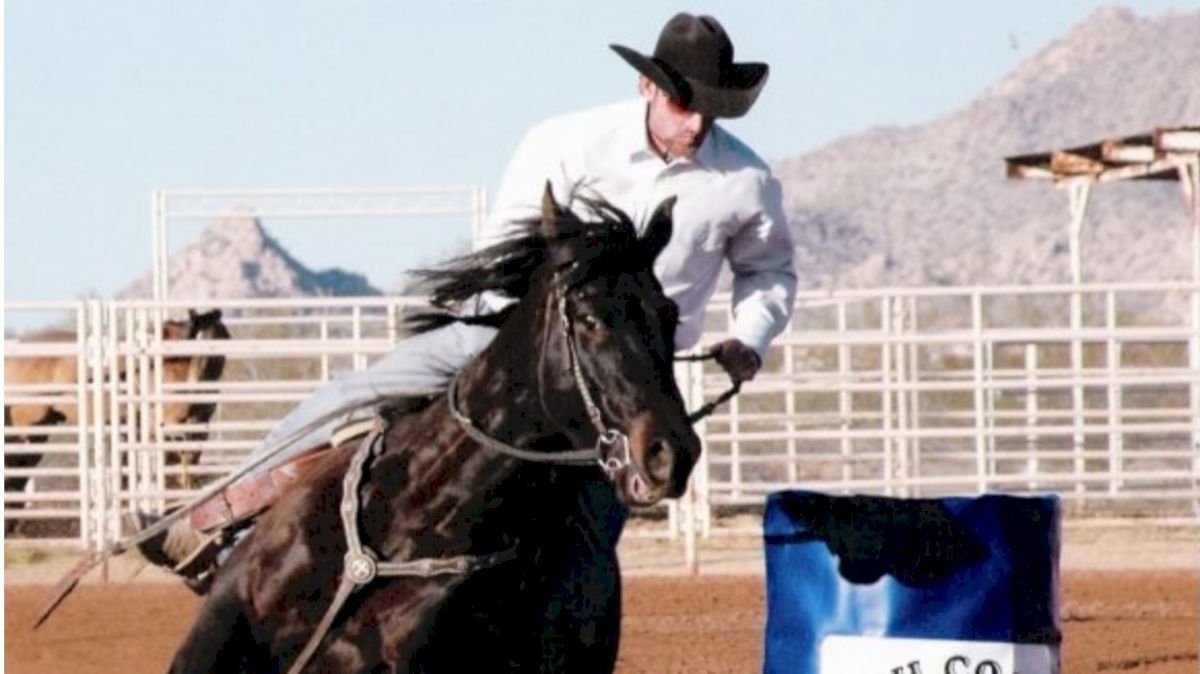 By: Amy Wilson

Kelly Conrado became passionate about training barrel horses when he was 8 years old. Throughout his successful career of raising and training horses, he has had numerous futurity wins, trained some of the very best barrel horses, and helped many riders achieve their dreams as well. This past year, his daughter, Ivy Conrado, qualified for the Wrangler National Finals Rodeo, and the horse he trained, CFour Tibbie Stinson "Tibbie," won the 2016 AQHA\WPRA Barrel Horse of the Year honors.

Conrado's training and advice is straightforward, and his love for horses is obvious. He appreciates the blessing of getting to live out his passion, and he always seems to keep the highs and lows involved in this lifestyle in perspective.

FloRodeo: Explain how you got started training barrel horses.
Conardo: Well, I fell in love with it when I was very, very young. I saw Jimmie Gibbs Monroe run her horse, Billy, at my hometown of Meeker [Colorado] when it was a ProRodeo. And the way he turned, I told my mom and dad, "I want to train horses to do that."

How old were you when you started and finished your first barrel horse?
I was probably 10. My mom helped me with him. He was a gelding that we raised. His name was Domino, and he was out of a mare my mom had rode and won on. And then the first horse I trained for the public was when I was 11.

Over your career, what has been the most important thing you've learned about training barrel horses?
Horsemanship and slow, methodical consistency.

As far as horsemanship is concerned, what is the best advice you could give a rider?
Find someone that really understands horsemanship and understands how the animal works, and go spend time with them and ride with them. Learn how to ride balanced and centered. Learn good, basic foundation horsemanship. Learn how the horse's mind works.

When it comes to barrel racing, you keep things very simple. Explain how you create success:
To me, I believe it's getting a good, strong foundation in your young horses -- as far as them understanding your cues and what you believe broke to be. On the pattern, I think it's very important to do things slow and methodical, and do the exact same place and the exact same time at every speed.

What specifically do you do for slow work on the barrels?
I feel it's really important to have your horse drive off their hind end and have the hind end push the front end around the barrel. For my specific goals -- which are to create rodeo horses that handle all types of ground -- I think it's very important to keep the barrel in the middle of a perfect circle; and to keep that hind end -- specifically the inside hind leg -- driving all the way around that turn, and not ever creating a teardrop or not creating a rollback spot, but just keeping that nice, smooth, fluid movement all the way through the turn.

How can a rider accomplish that?
One of the main things a rider can do is really focus on their position. I like to keep that barrel 3-4 feet away from my horse the whole way around the turn. For women especially, I've learned that women are very color-oriented, so you can have your rider tell you their favorite color, then tell them to put that barrel in the middle of a green or whatever color circle and ride your horse around the outside perimeter of that circle all the way around. That seems to really help people get their positioning.

Which horse has been your favorite to train and why?
My all-time favorite horse is Racey [Little Fancy Granny]. She's Tibbie's [CFour Tibbie Stinson] mother. She changed our lives.

Which horse presented the most challenges, and what were those challenges?
Tibbie presented the most challenges of any horse I've ever trained in my life. She is so willful and so quick and talented and strong and impatient. She was so much work. I spent hours and hours -- and literally two or three different times I just gave up and turned her out when she was a 2- and 3-year-old because I couldn't even get her to lope a circle. All she wanted to do was run circles. Finally, we took her to Montana with us. I went to exhibition her and I tried to take her through slow, and it was awful. So I decided just to let her go, and she just ran the barrels. So I was like, 'OK, I'm not messing with this anymore. I'm just going to pasture ride her and not worry about it'. Now, five years later, you can actually lope circles on her and lope her through the pattern. Ivy did the most of that work when she got on her. I was not going to fight with her.

When needed, how do you improvise your training for a specific horse?
Improvising with Tibbie was knowing that all I was ever going to get to do when I did slow work is trot. There was never going to be a lope until five years later. I just did all of my footwork at a walk and a trot. I didn't have a choice because the minute you let go of her, she was at a dead run -- there was no in between. I didn't really change my footwork. I didn't change pattern work. I just gave up the idea that I needed to lope her through the barrel pattern or even around a barrel because she would not let me. And, I knew she was too good to fight with and possibly create an issue that would stifle her career.

Tibbie had a couple of instances this past year when she ducked barrels, but that didn't seem to rattle you at all. Why was that?
To be honest, I know her. There's not a malicious bone in her body. There's no cheat in her. Her biggest quality, and could be her biggest setback, is that she is unbelievably fast and strong, and it's easy to get out of position. I never worried about it because I knew if you just backed off a hair, she'd get right back to position. It wasn't a habit. It wasn't because she was hurting. It wasn't because she was being a cheater. It was literally because she was going too fast in the wrong spot and needed a little more guidance. Ivy learned from those situations -- and they were tough. They were hard on Ivy, and they were hard on me to watch, but I knew that my horse is a great horse. Her biggest asset -- and maybe her biggest fault -- is that she's so incredibly fast and quick. It's never ever fazed me or wavered me on the kind of horse she is or the integrity of her heart. It was just that those things can happen when you ride that kind of horse, especially when you're young.

You mentioned that you knew Tibbie wasn't hurting, what advice can you give people who are having issues with their horse?
First, they should invest in the highest-quality vet available. You need to find a vet that is reputable, works on reputable horses, and that is slow and methodical in lameness exams -- and starts from the bottom and works their way up. Once you determine if your horse is sound, then my next step is to look at chiropractics. Once we work through that, then I look at the horse's foundation - does he need to back up and go back to the beginning and the process of re-breaking them, re-positioning them, re-working their footwork -- and that's a long process, and there are very few people who are willing to put that time and effort in -- and money too. Everybody wants instant results, but to be successful you can't do that. You have to follow the process step by step, and work your way through things and to things - to your goals. There are no short cuts.

Do you have any advice when it comes to equipment?
I like really basic equipment. I love the Loomis. I've ridden in the Loomis gag for 28 years now -- it really fits my hands. And that's one thing about equipment, you have to find the bits that fit your hands. We never use snaps on our bridles -- I feel like snaps give horses cues that you aren't really sending because they jiggle around on there with weight. I'm dead set against snaps.

You raise horses and are part-owner of Darkelly. What do you recommend for someone who wants to take that route?
I've been at this my whole life, literally. Raising horses, and barrel horses have been my passion since I was 8 years old. I believed at a very young age that you could raise a horse that would be predisposed to running barrels. My mom's old mare really loved running barrels. That gelding out of her took to it -- all we had to do was position him -- and that gave me the foundation to believe that you can raise a horse that is predisposed to be easier to train on the barrel pattern. With that being said, I spent a lot of time studying horses that are predisposed to the desire to run barrels and make those crosses -- and also finding those horses that are off the grid. Tibbie's mother, Racey, is foundation. Those horses have run barrels since the sixties, but they were in an area of Colorado that only we knew that they ran barrels. We need that out-cross and new blood in the industry.

You always seem level and confident at events. When a rider gets to an event, what mindset do they need to have?
I think it's very important to develop a process. I think it's very important to develop a warm up process. I think it's very important to develop a mental process of going to the event with the mindset of 'I'm going to follow my process. I'm going to ride to position and go around the barrel. I'm going to ride to the next position. I'm going to ride around the barrel. I'm going to ride to the third position. I'm going to ride around the barrel.' And when you do that, it slows everything down mentally. It allows you the peace of mind to let your horse win. When you go there with the mindset of 'I'm going to win', you're not going to win. When you follow your process, and the winning takes care of itself. And following a consistent process also takes the pressure off of you because you know what you're going to do, you know what to expect, and your horse knows what to expect because you're not changing bits when you get there, you're not changing your training style when you get there, you're not changing your warmup style -- the horse knows what to expect. A horse requires consistency, and providing ourselves with consistency in that process allows us to feel more confident in what we're doing.

What have you learned from Ivy being on the road and making the WNFR that you could share with others?
Enjoy the process. Don't let it be bigger that what it is. Barrel racing does not change the world in any other aspect than you can have an influence on another little girl or boy's life. At the end of the day, it's just barrel racing and it's just rodeo, and there's another one right around the corner.


Like what you see? Sign up for our newsletter to stay current on all the latest rodeo news and your favorite content from FloRodeo.