2017 Calgary Stampede
Rodeo's Top Athletes Set For 2017 Calgary Stampede
Rodeo's Top Athletes Set For 2017 Calgary Stampede
The Calgary Stampede is excited to announce the names of the 120 exceptional athletes who will be competing at the world's largest outdoor rodeo, July 7-16, 2017.
Apr 25, 2017
by Cassie Emerson Emerson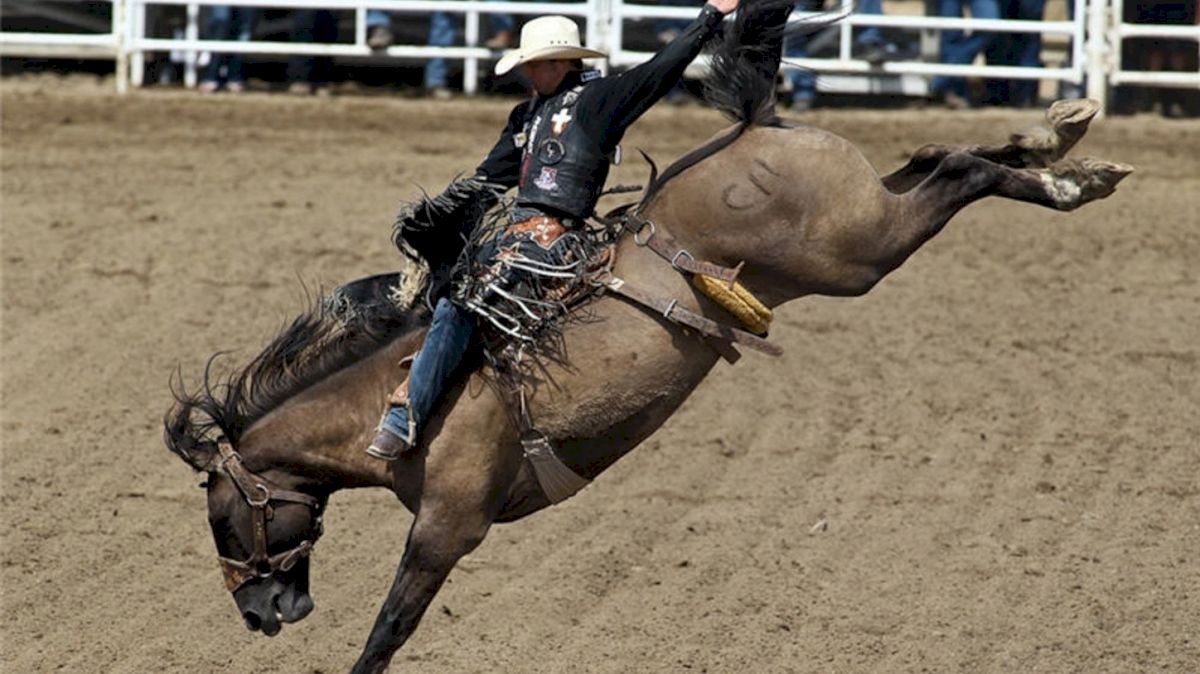 CALGARY, Alberta -- The Calgary Stampede is excited to announce the names of the exceptional athletes who will be competing at the world's largest outdoor rodeo on July 7-16. During the 10 days of competition, 120 superstars of the sport will ride, rope, and race in hopes of capturing a share of more than $2 million in prize money.
Twenty-two-year-old Zeke Thurston, a two-time defending Calgary Stampede saddle bronc champion and 2016 world champion, leads a strong contingent of Canadian athletes into this year's competition. Also among those proudly wearing the maple leaf in Calgary will be fellow saddle bronc rider Jake Watson, who was hot on Thurston's heels in Las Vegas at this past year's National Finals Rodeo.
"These two young men are a great example of the home-grown talent rodeo fans will get to see competing in Calgary this year, and they demonstrate the ongoing growth and strength of the sport within Western Canada," said John Rule, chair of the Calgary Stampede Rodeo committee.
All of the 2016 Calgary Stampede champions will be returning in 2017 to defend their titles, including 68-year-old Mary Burger, who won the hearts of the huge Calgary crowds with her talent, determination, and sheer grit. Burger and her horse, Mo, raced the barrels in 2016 with thunderous cheers urging them on. The dominant performance will be hard to top, but you can bet their fellow barrel racing competitors won't be holding back. Nearly half of the field is new to Stampede competition and will be looking to make its mark.
We're proud to have the opportunity to showcase the best-of-the-best at the Calgary Stampede," Rule said. "That's why we call it the Greatest Outdoor Show on Earth. We invite the greatest rodeo athletes and animals in the world.
Known as a family-friendly event, the 2017 Calgary Stampede's contestant list is also a family affair, especially in saddle bronc. Cody Wright will compete with two of his brothers, Jake and Jesse, as well as two of his sons, Rusty and Ryder. Brother-in-law CoBurn Bradshaw will also ride. Jacobs and Sterling Crawley are another pair of brothers competing in the saddle bronc lineup. In steer wrestling, Canadian brothers Curtis and Cody Cassidy hope to go head-to-head for $100,000 in the finals.
Saddle Bronc Riding
​Jim Berry -- Rocky Mtn. House, AB

Allen Boore -- Axtell, UT

Hardy Braden -- Welch, OK

CoBurn Bradshaw -- Beaver, UT

Jacobs Crawley -- Boerne, TX

Sterling Crawley -- Stephenville, TX

Cody DeMoss -- Heflin, LA

Clay Elliott -- Nanton, AB

Dustin Flundra -- Pincher Creek, AB

Layton Green -- Meeting Creek, AB

Audy Reed -- Spearman, TX

Cort Scheer -- Elsmere, NE

Wade Sundell -- Boxholm, IA

Zeke Thurston -- Big Valley, AB

Jake Watson -- Hudson's Hope, BC

Jake Wright -- Milford, UT

Rusty Wright -- Milford, UT

Cody Wright -- Milford, UT

Jesse Wright -- Milford, UT

Ryder Wright -- Milford, UT
Bareback Riding
​Tanner Aus -- Granite Falls, MN

Caleb Bennett -- Tremonton, UT

Clayton Biglow -- Clements, CA

Ty Breuer -- Mandan, ND

Jake Brown -- Cleveland, TX

Richmond Champion -- Dublin, TX

Mason Clements -- Santaquin, UT

Wyatt Denny -- Minden, NV

Steven Dent -- Mullen, NE

Kaycee Feild -- Genola, UT

Austin Foss -- Terrebonne, OR

Cole Goodine -- Carbon, AB

RC Landingham -- Hat Creek, CA

Orin Larsen -- Inglis, MB

Ky Marshall -- Bowden, AB

Tyler Nelson -- Victor, ID

Tim O'Connell -- Zwingle, IA

Steven Peebles -- Redmond, OR

J.R. Vezain -- Cowley, WY

Jake Vold -- Airdrie, AB
Ladies Barrel Racing
​Mary Burger -- Pauls Valley, OK

Pamela Capper -- Cheney, WA

Sherry Cervi -- Marana, AZ

Callahan Crossley -- Hermiston, OR

Nancy Csabay -- Taber, AB

Jackie Ganter -- Abilene, TX

Katie Garthwaite -- Merritt, BC

Jana Griemsman -- Piedmont, SD

Kathy Grimes -- Medical Lake, WA

Stevi Hillman -- Weatherford, TX

Taylor Langdon -- Aubrey, TX

Lisa Lockhart -- Oelrichs, SD

Emily Miller -- Weatherford, OK

Amberleigh Moore -- Keizer, OR

Kassie Mowry -- Dublin, TX

Tiany Schuster -- Krum, TX

Cayla Small -- Welch, OK

Kimmie Wall -- Roosevelt, UT

Kirsty White -- Big Valley, AB

Paige Willis -- Bristol, FL
Steer Wrestling
​Bray Armes -- Gruver, TX

Luke Branquinho -- Los Alamos, CA

Seth Brockman -- Wheatland, WY

Brock Butterfield -- Ponoka, AB

Curtis Cassidy -- Donalda, AB

Cody Cassidy -- Donalda, AB

Riley Duvall -- Checotah, OK

Dakota Eldridge -- Elko, NV

Ty Erickson -- Helena, MT

Derek Frank -- Stoney Plain, AB

Stockton Graves -- Alva, OK

Nick Guy -- Sparta, WI

Clayton Hass -- Weatherford, TX

Kyle Irwin -- Robertsdale, AL

Tanner Milan -- Cochrane, AB

Josh Peek -- Pueblo, CO

Matt Reeves -- Cross Plains, TX

JD Struxness -- Milan, MN

Jason Thomas -- Benton, AR

Tyler Waguespack -- Gonzales, LA
Tie Down Roping
​Logan Bird -- Nanton, AB

Al Bouchard -- Scandia, AB

Trevor Brazile -- Decatur, TX

Marcos Costa -- Parana, BRZ

Tyson Durfey -- Weatherord, TX

Morgan Grant -- Didsbury, AB

Shane Hanchey -- Sulphur, LA

Hunter Herrin -- Apache, OK

Ryan Jarrett -- Comanche, OK

JC Malone -- Plain City, UT

Timber Moore -- Aubrey, TX

Riley Pruitt -- Gering, NE

Lee Rombough -- Sexsmith, AB

Matt Shiozawa -- Chubbuck, ID

Caleb Smidt -- Bellville, TX

Cory Solomon -- Prairie View, TX

Cade Swor -- Winnie, TX

Stetson Vest -- Childress, TX

Fred Whitfield -- Hockley, TX

Marty Yates -- Stephenville, TX
Bull Riding
​Dakota Buttar -- Kindersley, SK

Cody Coverchuk -- Meadow Lake, SK

Cooper Davis -- Jasper, TX

Ryan Dirteater -- Hulbert, OK

Brennon Eldred -- Sulpher, OK

Joe Frost -- Randlett, UT

Jordan Hansen -- Okotoks, AB

Sage Steele Kimzey -- Strong City, OK

Mike Lee -- Alvord, TX

Timothy Lipsett -- Lumsden, SK

Jess Lockwood -- Volborg, MT

Guilherme Marchi -- Itupeva, BRZ

JB Mauney -- Mooresville, NC

Chase Outlaw -- Hamburg, AR

Tyler Pankewitz -- Ponoka, AB

Brock Radford -- DeWinton, AB

Garrett Smith -- Rexburg, ID

Cody Teel -- Kountze, TX

Fabiano Vieira -- Parana, BRZ

Joao Ricardo Vieira -- Sao Paulo, BRZ
Courtesy of Calgary Stampede


Like what you see? Sign up for our newsletter to stay current on all the latest rodeo news and your favorite content from FloRodeo.