2017 Ram National Circuit Finals
Shazam! Shiozawa Captures Fourth RNCFR Title
Shazam! Shiozawa Captures Fourth RNCFR Title
The Chubbuck, Idaho, tie-down roper is bringing the RAM National Circuit Finals Rodeo title back to the Wilderness Circuit after his 7.3-second run in the finals Sunday night.
Apr 10, 2017
by Cassie Emerson Emerson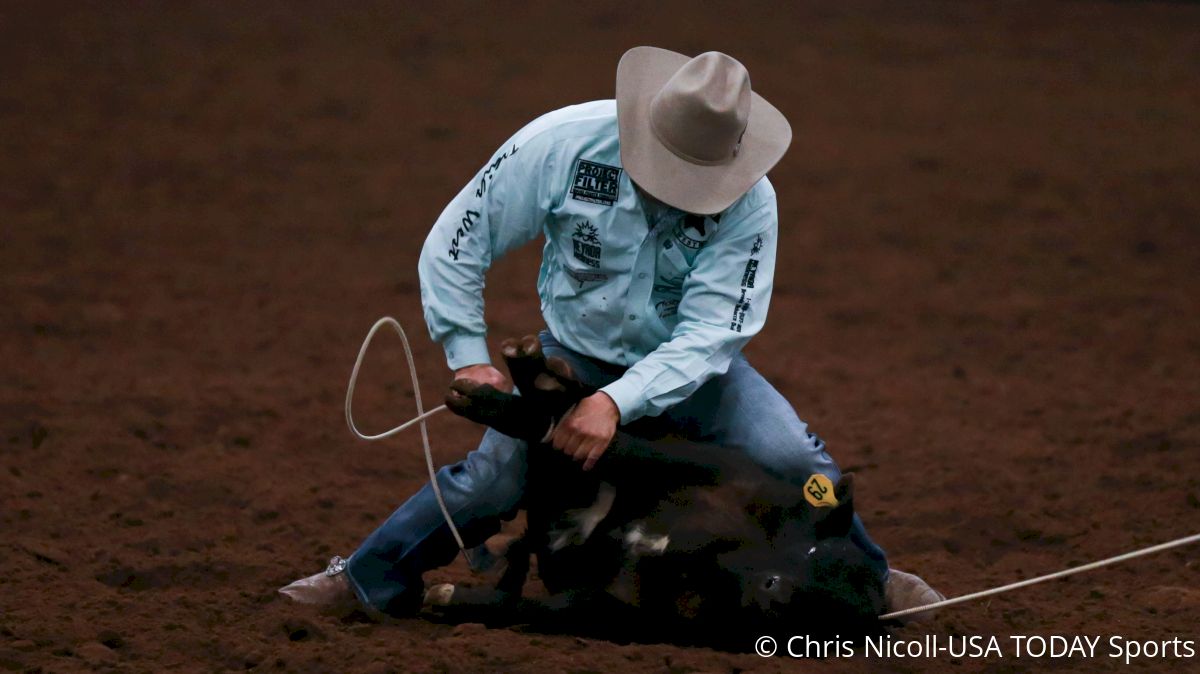 KISSIMMEE, Fla. - Matt Shiozawa and his wife have some spending money for their 10-year anniversary trip after his performance this weekend.
The Chubbuck, Idaho, tie-down roper is bringing the RAM National Circuit Finals Rodeo title back to the Wilderness Circuit after his 7.3-second run in the finals Sunday night. And now, he and wife Ali are headed even further south than Kissimmee.
"My wife and I have our 10-year anniversary coming up next week," Shiozawa said. "Ten years ago we didn't really do anything for a honeymoon because we were just kids trying to make it work. We're going to Playa del Carmen south of Cancun. We can finally do it right, 10 years later."
Shiozawa won the four-man finals round at Silver Spurs Arena aboard his 18-year-old bay mare, Alotta. He collected a $7,537 check for that run, and added another $7,949 from his previous runs at the April 6-9 rodeo.
I've ridden Alotta in Las Vegas many times," said Shiozawa, a nine-time qualifier for the Wrangler National Finals Rodeo presented by Polaris RANGER. "She's like Old Faithful for me. She's a bossy little mare with a lot of attitude, but she's dirty-tough, and she's also a family horse. I could win a rodeo like this on her, and then 20 minutes later my girls could be riding her around and petting her.
This is Shiozawa's fourth RNCFR title - he also captured championships in 2008 and 2012-13. However, he nearly missed his chance to take home the money, buckle, saddle, Polaris RANGER vehicle and a $20,000 voucher toward a new RAM truck.
Shiozawa's time of 9.3 seconds in the 8-man semifinals was just enough to get him into the finals, where he came out firing.
"I wasn't satisfied with my semifinal run - it got me into the finals, but I didn't feel like I nailed it," he said. "I got to rope first in the finals, and I drew what I would say was the best of four good calves. Sometimes I like to be out first and set the time to beat."
Shiozawa was thrilled with all the prizes he collected as the national champion, and says the money won will not only go toward the anniversary vacation, but help him be at home more with his wife and three daughters - Stella, Lorelei and Ivory.
"This is huge for the rest of my season," he said. "I'm a family man, and I like to be home as much as I can, so this money for the standings is a big help. The RAM voucher and the buckle is nice, and I really needed a Polaris. So this whole thing is just great for me. I appreciate all the sponsors who contributed to make this happen for us."
The other champions at the $757,562 rodeo were California Circuit bareback rider R.C. Landingham (88.50 points on Korkow Rodeos' Onion Ring), Texas Circuit steer wrestler Justin Shaffer (3.6 seconds), Prairie Circuit team ropers Jesse Stipes/Buddy Hawkins II (4.9 seconds), Texas Circuit saddle bronc rider Jacobs Crawley (89.5 points on Stace Smith Pro Rodeos' Resistol's Top Hat), Prairie Circuit barrel racer Emily Miller (15.27 seconds) and Texas Circuit bull rider Tanner Learmont (78 points on Silver Spurs Club's Hang Em High). Learmont was the only rider to post a score in the eight-man semis, and due to the ground rules, his 78-point ride was enough to be declared the RNCFR champ.
The Top Stock of the 2017 RNCFR were bareback horse United Pro Rodeo's Awesome Sauce, saddle bronc horse Brookman Rodeo's Kid Rock and bull Rafter H Rodeo's Nose Bender.
The Prairie Circuit claimed the team title - it was that circuit's fourth title in RNCFR history, with the others coming in 2002 and 2013-14.
Courtesy of PRCA