2017 Rodeo Houston
Mowry's March Madness
Mowry's March Madness
Kassie Mowry was the big winner in the barrel racing at RodeoHouston winning over $60K.
Mar 27, 2017
by Cassie Emerson Emerson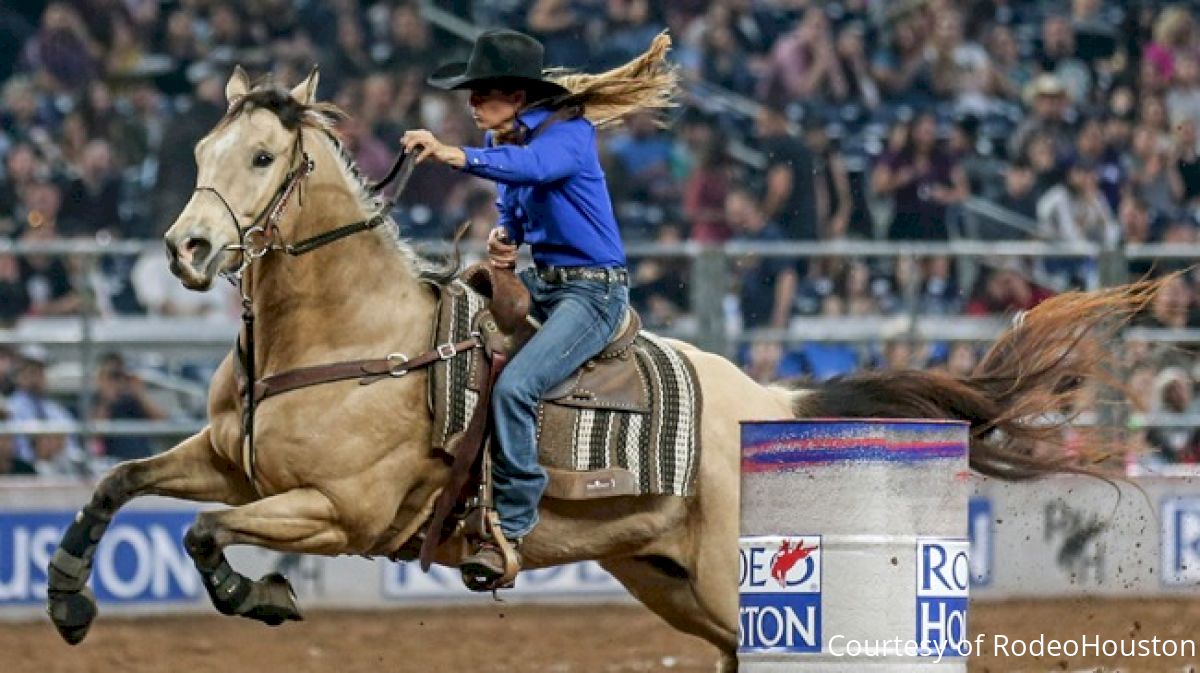 By Jolee Jordan
HOUSTON -- The stakes don't get much higher during the pro rodeo regular season than the final day at RodeoHouston. After working their way through four--and in the case of the wild card competitors five rounds, competitors arrived on Saturday's final day with a shot for a huge $50,000 purse.
Not only does that cash look great in a person's bank account, but for the ladies of the WPRA it can also put a barrel racer in a good position to qualify for the Wrangler National Finals Rodeo (WNFR) as all monies won here count toward the WPRA world standings.
It's hard to guess the thoughts running through competitors minds as they prepare for their final runs--for some, it's the biggest paycheck they have run for in a single night.
As the pressure peaked on the final day, Kassie Mowry may have had a leg up on the competition. A past qualifier to the WNFR, Mowry now spends her days training and competing on futurity horses--those in their first year of competition. Some of those runs come in slot races--one run events where a big entry fee is paid and an even bigger payout awaits the winners.
Mowry is a veteran of these competitions, sometimes making her first competitive run ever on a horse with as much as $100,000 on the line.
Perhaps years of handling, and excelling, in slot race formats was all leading Mowry to her runs in the 2017 RodeoHouston championship round.
The Dublin, Texas, cowgirl earned her spot in Houston after winning the San Angelo Stock Show and Rodeo back in February. She had only entered a handful of rodeos in 2016, so San Angelo was her final chance to gain a spot to run at NRG Stadium.
Mowry rides Firewatermakemehappy, a 7-year-old gelding by Firewaterontherocks. Mowry trained Junior and has campaigned him throughout his competitive career. In Houston, the pair easily won their Super Series and won again in a stacked field in the second semifinal to earn their spot in the championship.
Two cowgirls had to battled through the Wild Card round to be here on Saturday, Jana Bean and Kathy Grimes. Bean and Chick laid out a fantastic run for the win while Grimes scrapped her way past the field, beating Sammi Bessert by just four one-hundredths of a second for the final spot in the finals.
In the championship round on Saturday, last year's third-place finisher, Carley Richardson, laid the gauntlet for the field, posting a smoking 14.02-second run as the first runner through the alleyway with her tough gelding Radio.
Nellie Miller kept the heat on as the second runner, posting a 14.17 aboard her super consistent mare Sister.
All eyes were on Sydni Blanchard, the next to compete. Blanchard had run the fastest time of the rodeo during her Super Series in the beginning of a three straight round-winning run that included the first semifinal. Her mare, Famous Heartbreaker, wrapped the first turn but was just a tick too quick, carrying the barrel over to end her great Houston run.
Stevi Hillman followed on Truck but she too ran into penalty blues as did Bean, who followed Hillman.
Mowry brought the momentum back the right way with another flawless run, this time stopping the clock at 14.11 seconds to sit second.
Last year's reserve champ here was Oregon cowgirl Brenda Mays. Mays made her way back to the finals and put up a run of 14.58 seconds to sit on the bubble with three ladies yet to run.
Taylor Langdon and Cajun went a little long at 14.74 while Kelly Tovar and the incredible 5-year-old Bakken also had trouble rounding the first corner.
That left just Grimes and her mare Ruby. The pair were smooth and fluid around the first two, but a wide turn off the final can left the crowd wondering if she could race home fast enough to run into the Shootout round, as only the four fastest move on.
When the clock showed 14.57, Grimes had just squeaked in again, besting Mays by one-hundredth of a second.
With what surely felt like an eternity--but was actually just under an hour--to wait for the shootout round, the field prepared for another high pressure run. The order is set by the times run in the championship round so Richardson led the way again.
She made a horse change, stepping on Boy (Fashionable Boy) for the final run and put up a 14.61.
All business and with a calm born of years of proven performances, Mowry was next. Delivering another effortless performance, Junior was expertly guided by Mowry's steady hand and impeccable moves through the pattern.
The time easily landed the pair on top at 14.06 seconds. Now the wait... Miller brought Sister to the pattern but just brushed over the second barrel on their way around, ending her RodeoHouston with an incredibly rare barrel penalty.
Only Grimes and Ruby stood between Mowry and the biggest rodeo payday of her career.
Grimes' Cinderella season continued here in Houston aboard a different horse than the one which has carried her to third in the WPRA world standings prior to Houston. Ruby handled the tough conditions at NRG with ease and though they could not topple Mowry, their time of 14.44 seconds in the final round was enough to win second and a not-too-shabby $20,000 second-place finish.
Grimes has now won second at three of the WPRA's leading winter rodeos, Fort Worth, San Antonio, and Houston to push her season earnings to nearly $80,000 as she pursues her first trip to Las Vegas for the WNFR.
But the day belonged to Mowry, who gave credit to her equine partner.
"He came up through the futurity ranks and now we're starting to take him to some rodeos," Mowry told in-arena announcer Boyd Polhamus of Junior. "Martha and Jeff Smith are here, they own him.I'm so lucky I get to take him and run him."
Junior's rodeo experience has been limited and Mowry seemed as surprised as anyone at his success in the toughest of rodeo setups.
I was very overwhelmed when I got here. The horse has never even ran in an outdoor arena and this is pretty close to an outdoor arena as big as it is. So I'm thrilled with how he's responded.
Calling the win her largest rodeo win every, Mowry admitted to not having any plans moving forward for this rodeo season now that her earnings have climbed to more than $76,000 thanks to her $60,000 RodeoHouston. She's only entered five rodeos this year.
"I don't know, I haven't even thought that far ahead," Mowry admitted with a laugh. She had only entered San Angelo to get a little rodeo experience for another horse, the four year old Girls Dig Fame, to spark the fire this winter has become for her.
"Well, I'm a futurity trainer first and foremost, so I guess we'll just have to see how everything goes."
With the end of RodeoHouston, the standings will see some shake ups as Mowry climbs the ranks and now three ladies have won more than $75,000 in just the first few months of the season.
For more information on RodeoHouston, visit www.rodeohouston.com.
Wild Card Round
Name, Horse, Time, Earnings
1. Jana Bean, Dashing Klee, 14.06, $3,000*
2. Kathy Grimes, KG Blazin Nine Oh, 14.29, $2,000*
3. Sammi Bessert, Terrible Tommy Twist, 14.33, $1,000
4. Nancy Csabay, Little Miss Wicked, 14.35, $750
5. Pam Capper, Sheza Smooth Flight, 14.41, $500
6. Rachel Dice, Tivitosatthegogobar, 14.45, $500
7. Britta Thiel, YHS Texs Roger, 14.45, $500
8. Sherry Cervi, Dash ta Diamonds, 14.50, $500
9. Cassidy Kruse, Dash ta Tim, 14.61, $500
10. Kellie Collier, 15.43, $500
11. Tiany Schuster, Hoosier Fame, 19.75, $500
12. Ivy Conrado, CFour Tibbie Stinson, 21.48, $500
*Advance to Finals

Championship Round
Name, Horse, Time, SF Earnings, Total Earnings
1. Carley Richardson, Doda Flit, 14.02
2. Kassie Mowry, Firewatermakemehappy, 14.11
3. Nellie Miller, Rafter W Minnie Reba, 14.17
4. Grimes, 14.57
5. Brenda Mays, Judge My Fame, 14.58, $1,250
6. Taylor Landgon, Cashin on the Bayou, 14.74, $1,250
7. Kelly Tovar, A Dash ta Glamour, 15.22, $1,250
8. Stevi Hillman, Cuatro Fame, 19.21, $1,250
9. Bean, 19.41, $1,250
10. Sydni Blanchard, Famous Heartbreaker, 20.13, $1,250

Shootout Round
1. Mowry, 14.06, $50,000
2. Grimes, 14.44, $20,000
3. Richardson, Fashionable Boy, 14.61, $10,000
4. Miller, 19.14, $5,500

Final Results with Total Won
Mowry, $60,000
Kathy Grimes, $28,000
Richardson, $14,750 Miller, $11,250
Blanchard, $9,750
Hillman, $9,250
Bean, $8,000
Langdon, $7,750
Tovar, $7,250
Mays, $5,000
Sami Bessert, $7,000
Ivy Conrado, $6,500
Pam Capper, $3,500
Sherry Cervi, $3,500
Cassidy Kruse, $3,500
Tiany Schuster, $3,500
Britta Thiel, $3,500
Nancy Csabay, $3,500
Kellie Collier, $3,000
Rachel Dice, $2,500
Courtesy of WPRA