2017 Rodeo Houston
Kassie Mowry Making Most Of Opportunities In 2017
Kassie Mowry Making Most Of Opportunities In 2017
The WPRA's latest fairy tale princess may well be Dublin, Texas cowgirl Kassie Mowry after she finished in first place in her Super Series at RodeoHouston last week and clinched a spot in the semifinals.
Mar 20, 2017
by Cassie Emerson Emerson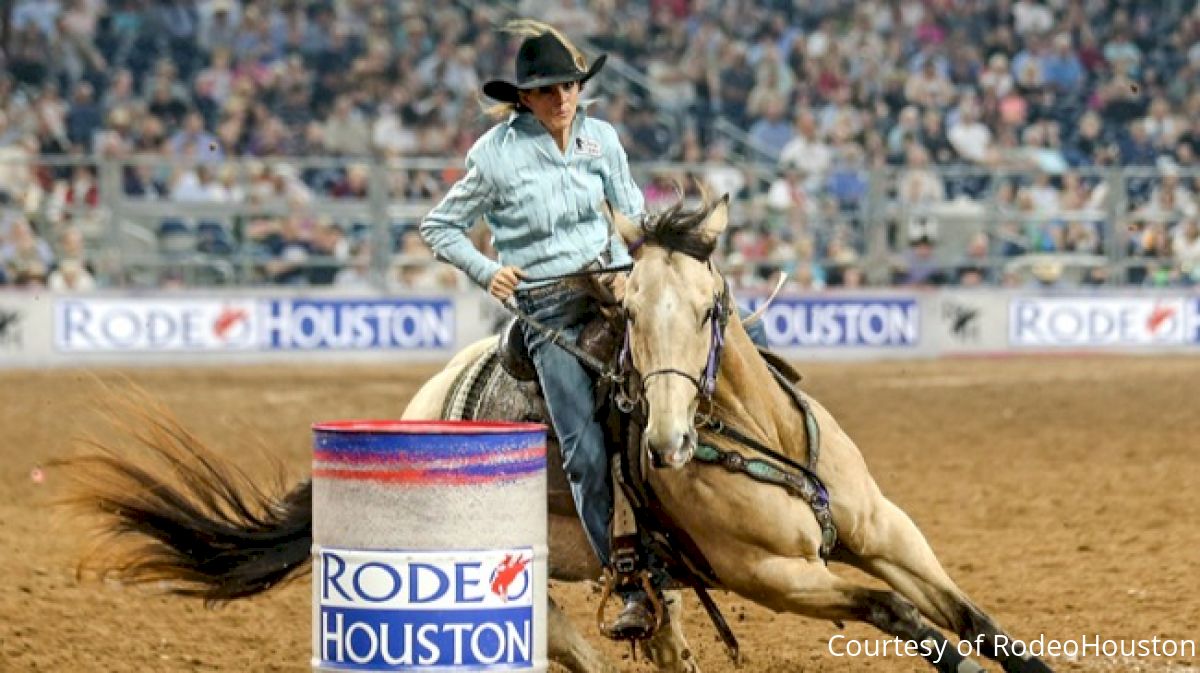 By Jolee Jordan
HOUSTON -- Like many other sports, professional barrel racing has its own share of Cinderella stories. And the WPRA's latest fairy tale princess may well be Dublin, Texas, cowgirl Kassie Mowry after she finished in first place in her Super Series at RodeoHouston last week and clinched a spot in the semifinals.
A former competitor at the Wrangler National Finals Rodeo (WNFR), Mowry had no plans for the rodeo road in 2017, preferring to spend her hours training young horses and competing in aged events and jackpots.
That pursuit has actually been the catalyst for Mowry's rise in the WPRA world standings this season. After entering just three rodeos a year ago, Mowry made a fateful decision in January: She decided to enter the San Angelo Stock Show and Rodeo.
Mowry was in the early going of the 2017 futurity campaign with a 4-year-old horse named Girls Dig Fame. After hitting some costly barrels, Mowry decided she was riding the young horse too cautiously. Saying she needed to get out of training mode, Mowry entered Digger at San Angelo, counting on the aggressive style of rodeo barrel racers to inspire her to trust the youngster more.
It worked, in more ways than anyone could expect. Digger stepped up and placed 10th in the opening round at San Angelo, held during slack. He beat more than 200 of the WPRA's best to earn a check.
The change in Mowry's mental game was huge for she and Digger. Just weeks later, the pair won $75,000 in the Diamonds & Dirt Slot Race, a huge event on the futurity schedule.
Meanwhile, Mowry stepped on Junior, registered Firewatermakemehappy and owned by Martha Smith, for the performance runs at San Angelo. She placed in the second round and qualified for the short go, but more drama ensued.
Mowry was competing in a futurity event in Louisiana and had to hop a plane in order to make it back to San Angelo in time for the finals. Trouble was, the plane was overbooked. But thanks to a good Samaritan giving up his seat, along with help from friends and family on both ends of the journey handling the horses, Mowry made it back just in time to win the short go and the average title.
Sometimes, it's just meant to be. The win in San Angelo--worth more than $12,000--also comes with another big perk--a ticket into RodeoHouston.
Enter huge opportunity.
RodeoHouston began March 7 with 40 competitors broken into five Super Series rodeos. Each Super Series consists of three rounds of competition with one goal for each competitor: win as much as you can. The top four money winners from each set move on to the semifinals on March 22-23.
Though Junior's rodeo experience is more limited than most of his competition at RodeoHouston, he and Mowry proved they belonged with the WPRA's best while competing in Super Series IV.
Seven-year-old Junior won the opening round on Thursday under the expert piloting of Mowry. The pair stopped the clock at 14.30 seconds, holding off a tough challenge from both Ivy Conrado and four-time Houston winner Sherry Cervi.
Conrado would strike back 24 hours later in the second round, posting an ultra smooth 14.18 second run aboard Tibbie for the win. The run was the fourth best of the rodeo so far.
After taking third behind Rachel Dice, Mowry was tied with Conrado for the lead of the set with just one round left to run.
In yet another tough round, Mowry was able to win again on Saturday, posting a 14.21-second run for the victory. Conrado was second with her run of 14.26.
With the set complete, Mowry had earned $7,000, more than any other barrel racer here so far.
It's so unexpected," Mowry told the crowd shortly after her third run. "I'm so proud of my horse. I never dreamed he would work this well in this big arena.
"It's not really his cup of tea," she continued. "It's a big moment, a big step up in his future."
Conrado finished second in the Super Series with $6,000 won while Cervi was third with $3,000. The fourth and final spot in the semifinals went to Dice with $2,000.
The semifinals, wild card, and championship rounds at Rodeo Houston are all sudden death based on fast times. The four fastest from each semi move to the championship, while the remaining six go to the wild card round. Two from that round, held March 24, also advance to the final night.
The championship is one round for all 10 qualifiers followed by the shootout; the four fastest from the first round run in the shootout for the lion's share of the purse in Houston, headlined by a $50,000 first-place paycheck. All money won counts toward the WPRA world standings, giving the winner a huge chance to be in Las Vegas in December for the WNFR.
Only eight ladies remain to compete in the preliminary competition. Super Series V ends that competition with 2015 WPRA World Champ Callie (duPerier) Apffel, two-time WPRA reserve world champ Lisa Lockhart, two-time reigning Canadian champion Nancy Csabay, and WNFR qualifiers Sydni Blanchard, Benette Little, Carley Richardson, and Nellie Miller along with top circuit cowgirl Megan Swint.
For more information on RodeoHouston, visit
www.rodeohouston.com
and stay tuned to
www.wpra.com
for continuing updates.
Super Series IV1st Go
1. Kassie Mowry, Firewatermakemehappy, 14.30, $3,000
2. Sherry Cervi, Dash ta Diamonds, 14.34, $2,000
3. Ivy Conrado, CFour Tibbie Stinson, 14.36, $1,000
4. Jana Griemsman, Chase it With Brandy, 14.48, $750

2nd Go
1. Conrado, 14.18, $3,000
2. Rachel Dice, Tivitosatthegogobar, 14.25, $2,000
3. Mowry, 14.29, $1,000
4. Emily Miller, Namgis D35, 14.34, $750
3rd Go
1. Mowry, 14.21, $3,000
2. Conrado, 14.26, $2,000
3. Cervi, 14.32, $1,000
4. Tillar Murray, Dirty Dan Stinson, 14.46, $750
Total Money Won
*Mowry, $7,000
*Conrado, $6,000
*Cervi, $3,000
*Dice, $2,000
Griemsman, $750
Miller, $750
Murray, $750
*Advance to semifinals


​​Courtesy of WPRA