2017 The American
Three Share $1 Million Bonus At World's Richest One-Day Rodeo
Three Share $1 Million Bonus At World's Richest One-Day Rodeo
Three individuals shared a $1 million bonus at the world's richest one-day rodeo on Sunday. RFD-TV's The American presented by Polaris RANGER awarded a total of $2 million to winners in seven rodeo contests at AT&T Stadium.
Feb 20, 2017
by Cassie Emerson Emerson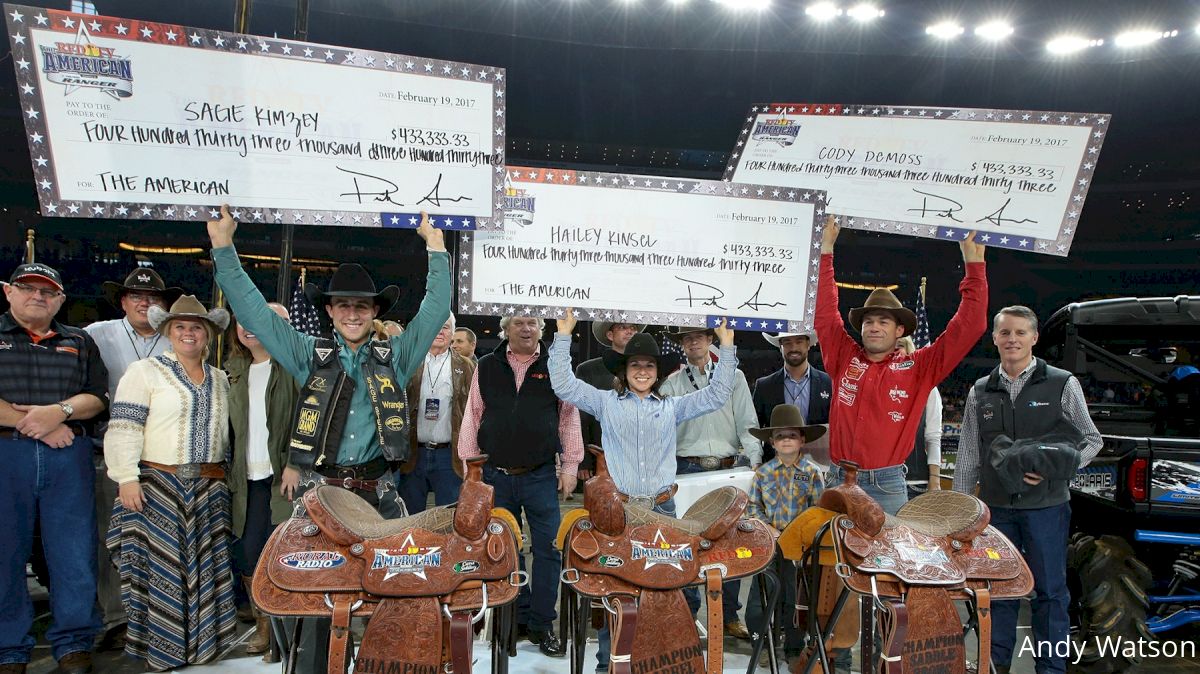 ARLINGTON, Texas -- Three individuals shared a $1 million bonus at the world's richest one-day rodeo on Sunday. RFD-TV's The American presented by Polaris RANGER awarded a total of $2 million to winners in seven rodeo contests at AT&T Stadium.
Barrel racer Hailey Kinsel, a college student, and saddle bronc rider Cody DeMoss, a veteran pro, both came through a qualifying system and won championships. Bull rider Sage Kimzey, who received an exemption and came straight to The American, won the bull riding title. These three each earned $433,333 to $100,000 for first place in their events and a third of a $1 million bonus.
Kinsel and DeMoss were two of 46 individuals whose road to The American started at qualifying events across the country. Then, they had to finish at the top after four days of The American Semi-Finals in Fort Worth earlier in the week. Five to 10 in each event earned the opportunity to compete at AT&T Stadium, the home of the Dallas Cowboys, against 80 invited contestants who are considered the world's best. Eight champions were crowned.
Bareback riding winner Tim O'Connell, from Zwingle, Iowa, rode Frontier Rodeo's horse Show Stomper for 90.25 points to win the Shoot Out. The American championship has gone to a bareback rider who has ridden the bay bucking horse the past three years.
"It's hard to put into words how great this rodeo is and what life changing things it can do for you," O'Connell said when he received his $100,000 check. The three who each earned nearly $500,000 agreed that the money would make a huge difference for them.
This changes everything," Kinsel, from Cotulla, Texas said. "But it doesn't change the way I feel about my horse. God is good, my horse is awesome and this is amazing.
Kinsel, a senior at Texas A&M, rides a 6-year-old Palomino mare named DM Sissy Hayday that she and her mother trained. During The American Semi-Finals Kinsel won more than $20,000.
Frontier Rodeo's bucking horse Maple Leaf has taken saddle bronc riders to the winners' stage for two consecutive years. Last year it was Iowa's Wade Sundell. This year it was DeMoss. In 16 seconds, over $1.5 million has been won on this featured bucking horse.
DeMoss, a 12-time National Finals Rodeo bronc rider, hasn't decided what he'll do with nearly $500,000 in winnings.
"I guess I'll talk it over with her," he said with a grin, pointing to his wife Margie. "This is at the top of my rodeo career."
Kimzey, a three-time world champion bull rider in the Professional Rodeo Cowboys Association, finished second in the first round to get to the Shoot Out. The first bull rider was Brazilian Claudio Marcelino de Montanha, who qualified at an event in his home country and finished first in the semifinals. He made easy work of TNT Rodeo Company's Bottoms Up, scoring 89 points. The next rider was former Professional Bull Riders world champion Guilherme Marchi, who came off early.
Then it was Kimzey's turn. He got on a bull named Uncle Tink, owned by former NFL defensive end Jared Allen, and scored 89.5. The final rider was bucked off, and Kimzey earned the championship.
"I love being a cowboy, love everything about it," Kimzey said. "I love competition, too, and this was a great day. I got to ride against the best guys on the best bulls."
The talent-filled field in bareback riding, team roping, steer wrestling, saddle bronc riding, tie-down roping, barrel racing, and bull riding started with each contestant trying to advance to the Shoot Out Round. The best four go to The Shoot Out and compete once more, with the highest score or fastest time earning $100,000. Both the header and the heeler received $100,000 in team roping. Second place in the Shoot Out was worth $25,000.
When The American started four years ago, this format was created to give rodeo athletes an opportunity to compete at one rodeo for big pay checks. Then RFD-TV raised the bar by adding a $1 million bonus for individuals who come through the qualifying process and win championships. Over the past four years the event has paid more than $10 million to winners at The American and the Semi-Finals.
Clayton Hass from Weatherford won the steer wrestling. Brothers Riley and Brady Minor from Ellensburg, Washington, took the team roping title. Stephenville's Marty Yates earned the tie-down roping championship.
By Johna Cravens


Like what you see? Sign up for our newsletter to stay current on all the latest rodeo news and your favorite content from FloRodeo.