2016 ERA World Championship
History Made at First ERA
History Made at First ERA
The Elite Rodeo Association World Championship Finals crowned its first ever champions in eight events at the American Airlines Center in Dallas on Sunday.
Dec 17, 2016
by Willie Saylor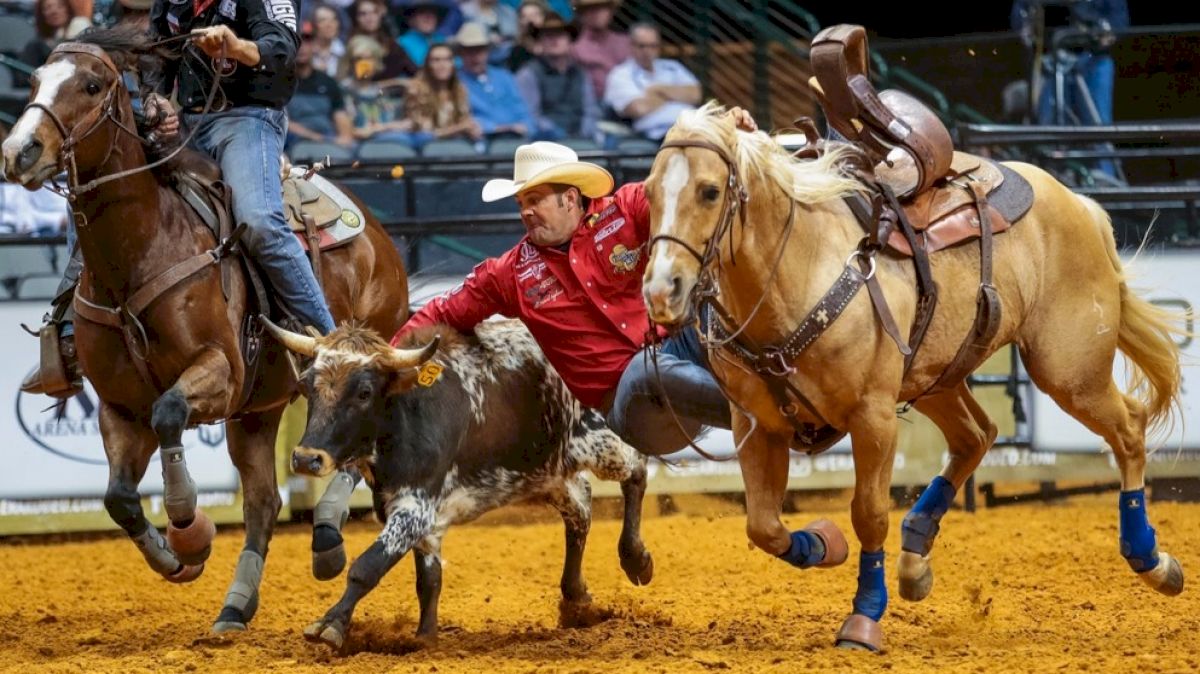 by Hope Sickler

Sunday after was the conclusion of the Elite Rodeo Association (ERA) World Championship Finals held at the American Airlines Center in Dallas. After the final performance on Sunday afternoon, points were tallied, and the first ever ERA world champions were handed their crowns.

Chandler Bownds had a great finals in the bull riding, winning the first and third round. In the third round, he rode Spotted Canyon to the win with an 86.5-point ride and edged out Cody Campbell by a mere 25 points for the year-end win. Bownds closed the season with 2,450 points.


Steven Dent rode the hair off of Smack Daddy in the bareback riding to the tune of eight seconds and 86 points, good enough for a win in the final round. With that victory, Dent added another 600 points to his standings total and clinched the overall title with 3,437.5 points. Fan favorite Kaycee Feild was reserve champion with 3,237.5 points.


In the barrel racing, Kassie Mowry put on a clinic by winning all three rounds. She ran her fastest time in third round, posting a blazing fast time of 12.793, over two-10ths of a second faster than the rest of the barrel racers. Although Mowry won all three rounds, it was Lisa Lockhart who walked away with the championship win. Lockhart ended the season with 3,425 points, while Fallon Taylor was reserve champion with 2,637.5 points.


Out West fared no chance when champion bronc rider Wade Sundell drew him in the final round. Sundell spurred the grizzly bronc to 87 points and a round win. Cort Scheer rode Bitter Robin for 86 points and solidified his championship with 3,962.5 points. Sundell finished second in the ERA World standings with 3,425 points.



Steer wrestler Casey Martin wanted to make sure he ended his first trip to the ERA World Championship Finals the right way -- with a win. Martin wrestled his steer in 3.58 seconds and got his wish when he edged out Bray Armes, who got it done in 3.76 seconds. Armes' second-place finish in the final round would be good enough to hold off Stockton Graves and earn his first ERA World Championship with 3,100 points. Although Graves didn't earn any points in the final round, his 2,787.5 points still earned him year-end reserve champion steer wrestler.


In the team roping, Turtle Powell and Jhett Johnson roped and spun their steer in a 3.6 seconds, which gave them the go-round win. However, it was Clay Tryan and Jade Corkill who captured the year-end championship with 3,750 points. Derrick Begay and Clay O'Brien Cooper finished in second with 3,100 points.


Tie-down roper Shane Hanchey ended the ERA World Championship Finals on the right foot when he tied his calf in 7.05 seconds and won the final round. He also sealed his first ERA World Championship with 3,200 points. Caleb Smidt was second overall with 2,675 points.