Randy Bernard: The Man Behind the Vision
Randy Bernard: The Man Behind the Vision
Randy Bernard talks to us about his experiences that led him to ERA.
Dec 17, 2016
by Willie Saylor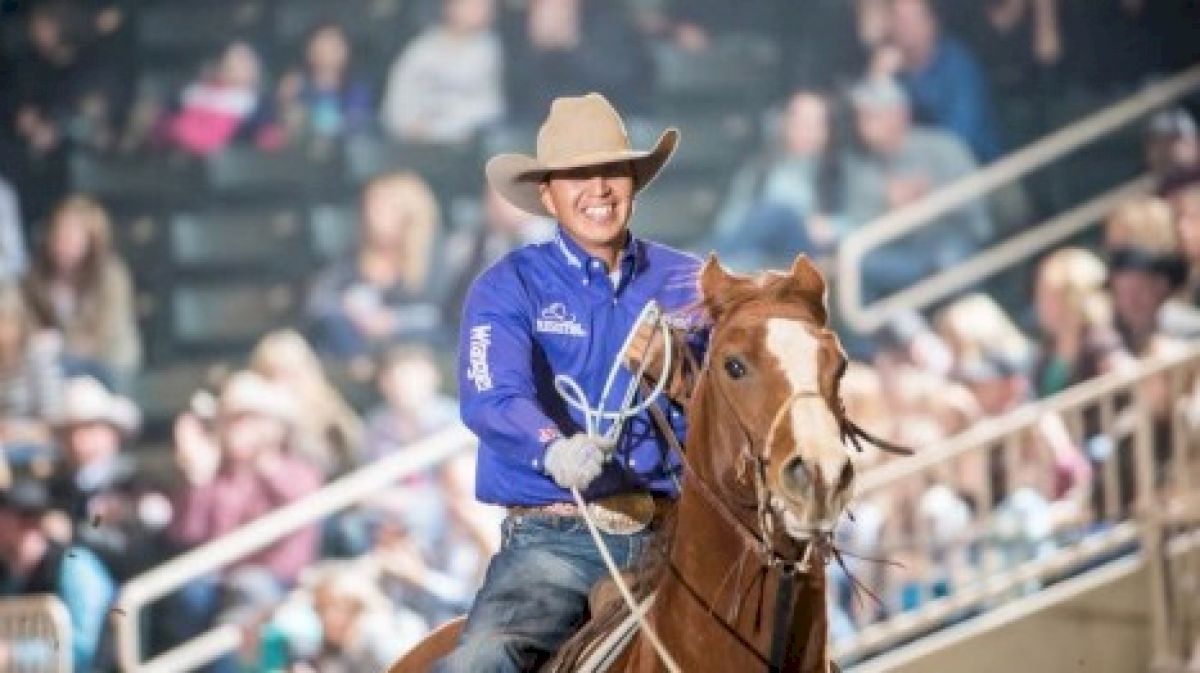 by Hope Sickler

Randy Bernard has mastered turning a vision into a reality.
Whether guiding Professional Bull Riding to new heights or serving as the CEOs of IndyCar and GhostTunes, Bernard's leadership and ability to follow through on his ideas has translated to all corners of the entertainment industry.
He is the driving force behind The American, and now he is aiming to change the face of rodeo as we know it after recently taking a position as the main consultant for the Elite Rodeo Association (ERA).
If you are still wondering who Bernard is, read on as FloRodeo takes an in-depth look at the winding career paths and successes of one of the most driven individuals in the rodeo world.
Climbing Ladders

Bernard grew up in the rodeo atmosphere and attended Cal Poly in San Luis Obispo, where he participated on the college rodeo team. While at Cal Poly, Bernard took a class that was primarily focused on fairs and entertainment. "Right then and there, I knew I wanted to be involved in the entertainment world," Bernard said.
It didn't take long for Bernard to get his foot in the door, either. A chance conversation in an elevator with Stamp Anaheim, the general manager of the Canadian Football League's Calgary Stampede, led to a surprise internship opportunity for Bernard.
"We got to talking, and he asked if I would be interested in coming up to Calgary and doing an internship with them," Bernard said. "I was perplexed! That was a huge deal, and only three or four Americans have done that internship."
After his internship in Calgary concluded, Bernard spent the next four years working at the California Mid State Fair.
In 1994, Bernard produced one of the very first Professional Bull Riding tours, and it was such a success that the following year he was asked to be the CEO.
"That same time that PBR was wanting to make me CEO, the commissioner of the [Professional Rodeo Cowboys Association] wanted to bring me on board with them," Bernard said. "Both companies are outstanding, and while it was a tough decision, I went with my gut feeling and what I felt was the best decision for me and the company."
Bernard followed his instincts and took the CEO position with the PBR. His initial salary was $55,000, and the office at the time was the size of a walk-in closet with a folding chair and a card table.
After working without a staff for two years, the company grew from its humble beginnings to take up two floors in a downtown Colorado Springs building. PBR then moved to Pueblo, Colorado, when it was offered a substantial amount to relocate its headquarters.
New Beginnings

In 2007, PBR was sold, and Bernard was ready for a change. "I was with the PBR for 15 years and to see where it had come from where it had started was something I will never forget," Bernard said. "We sold the company, but I stayed in contract for four years and had an option out in the fourth year. Several people didn't think I would leave PBR, but I felt like the timing was good and it was time for another adventure."
It wasn't long before Bernard found a new job offer -- in open-wheel racing.
Bernard received a call from his friend, Chris Cox, that IndyCar was interested in speaking with him about a consulting position.
With a scant background in the sport, Bernard jumped a plane and headed to Indianapolis.
"I knew close to nothing about IndyCar, but I prepared and did my homework," Bernard said. "When I got there, they wanted to know if I would be interested in being the CEO of IndyCar. Once again I was perplexed! I thought they were wanting me as a consultant, but the first thing said to me was, 'When can you start?' That was a huge wow moment for me."
Bernard saw the interview as a sign that it was time for him to move on from PBR. He called PBR co-founder Ty Murray and vice president Cody Lambert after he left Indianapolis to tell them he was accepting the position at IndyCar.
"They tried to talk me out of it, but I told them my mind had already been made," Bernard said. "I left PBR and went to IndyCar where I spent three phenomenal years."
After IndyCar, Bernard went on to work for RFD-TV, and the rest, as they say, is history. Bernard joined Rural Media Group as CEO in December 2012.
One evening after work, Bernard received a text message from his good friend, Garth Brooks, asking if he wanted to have dinner that night.
"I get this text from Garth asking about dinner, and before I know it his private jet is in Omaha to pick me up and take me to Tulsa to his house," Bernard said. "Two days later and I am in the same clothes and still at his place in Tulsa. I flew back to Omaha and resigned as the CEO of RFD-TV and went to work for Garth."
Bernard is now the CEO of GhostTunes.com, LLC in partnership with Brooks. GhostTunes is an online music store that was launched in 2014 and differs from other online music stores such as iTunes Store by allowing the individual labels to choose their selling format and prices.
From The American to the ERA

After reinventing the sport of rodeo with The American, the 49-year-old Bernard has taken on yet another position that will help launch the sport to a whole new level. The ERA brought Bernard on this fall as its main consultant after making a few changes to the 2016 tour. The ERA has full faith in Bernard and his true passion for the sport of rodeo.
Being a friend of the ERA since its inception, Bernard's main goal is to better the sport of rodeo and he sees a lot of potential with the ERA and what they are trying to accomplish.
"We have got to build exposure and a brand," he said. "Americans need to see these contestants every week and you don't do it with 30 hours of programming every year. We as rodeo fans need to address how to grow our sport of rodeo."
Watch the inaugural ERA World Championships LIVE Nov. 11-13 on FloRodeo and the FloSports Roku & Apple TV 4

Q&A

FloRodeo:
When in your career have you been the most happy?
Bernard:
I am the most happy when I am building something and when I am passionate about my project. … I have had a very great career in my opinion with great opportunities. I don't think people realize the amount of work that it takes to be successful. It wasn't always glamorous. It was tough, roll-up your sleeves and put in hundreds of hours hard work.
FloRodeo:
What in your view has been your biggest success and your biggest screw up?
Bernard:
I look at everything I do in different aspects of success. I am very goal-oriented, and I look at everything as how I can do it better. No matter what you do, there will always be a part where you fail and the most important lesson in life is being able to understand that mistake and figure out how to fix it so it doesn't have to happen again. My biggest screw-up? Three things as a kid I wish I would've done: learned how to golf, learned Spanish, and learned how to play a musical instrument. That's it.
FloRodeo:
What is a day in the life of Randy Bernard like?
Bernard:
It is very fast paced! A lot of things going on but I love every waking minute of it. I live for that kind of stuff.
FloRodeo:
Favorite food?
Bernard:
Mexican food and sushi. I love any kind of sushi.
FloRodeo:
Favorite kind of music?
Bernard:
I love any kind of music, from blues to rock to country.
FloRodeo:
Favorite pastime?
Bernard:
I hardly ever get any time off. I am so engaged in my work that I really don't have a pastime. I do like to go on Ranchero Vista Dori trail rides and go to Cabo. I also like to hunt, but I don't get to go very much. I just don't have the time.
FloRodeo:
Can you give us a little hint as to what RFD-TV might be cooking up next?
Bernard:
We do have a bunch of stuff we are working on. We are making huge changes, especially involving the rodeo world and The American. I want The American to be the Kentucky Derby of horse racing -- the Masters of golf, the Super bowl of NFL football. I think The American has a place of being very prestigious and growing. It will help the sport of rodeo and the Western lifestyle tremendously. I have produced over 3,000 events, from the Indy500 to all the PBR events, and The American is by far my favorite event that I have produced. I see a lot of potential in it, and I think it will continue to grow immensely year after year.
FloRodeo:
Where do you see the sport of professional rodeo in five years?
Bernard:
I see rodeos at a crossroads, but it is a good crossroads. I think it is healthy for athletes to ask questions on how they are going to better their sport. … When it is all said and done, rodeo is not where it should be. I really believe that our sport of rodeo has to catch up with the times. It needs to have significant value and it needs to take care of its contestants. You cannot run a rodeo association as a club. It has to be ran as a business, sport, and most importantly entertainment. Those three things are the most important ingredients in a company.