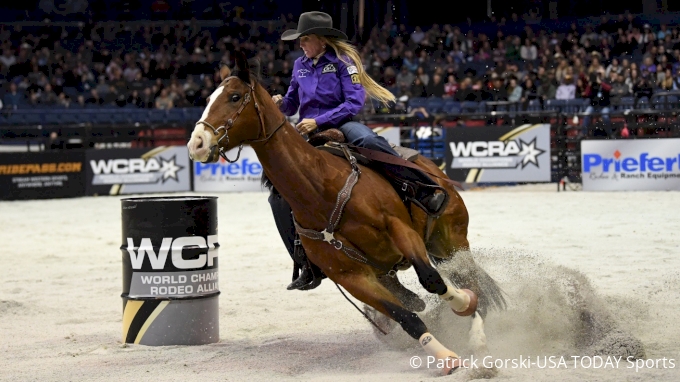 Watch the WCRA's $500,000 Semi-Finals live on FloRodeo May 16 to 19, 2019. We'll be streaming the slack rounds on May 16 and 17 where competitors in the 51-100th spots in the standings will be trying to make their way into the $500,000 Semi-Finals on May 18 and 19.
Watch the 2019 WCRA $500,000 Semifinals in Guthrie, Oklahoma May 16-19 LIVE on FloRodeo by clicking HERE.
*All times are listed in Central Daylight Time.
THURSDAY, MAY 16


Time
Event
Location
10:00 A.M.
Steer Wrestling Round 1
Arena 1
1:00 P.M.
Tie-Down Roping Round 1
Arena 2
1:00 P.M.
Steer Wrestling Round 2
Arena 1
4:00 P.M.
Tie-Down Roping Round 2
Arena 2
7:30 P.M.
Barrel Racing Round 1
Arena 1






FRIDAY, MAY 17


Time
Event
Location
8:00 A.M.
Barrel Racing Round 2
Arena 1
9:00 A.M.
Breakaway Roping Jackpot
Arena 2
10:00 A.M.
Team Roping Jackpot
Arena 1
Noon
Breakaway Round 1
Arena 2
1:00 P.M.
Team Roping Round 1
Arena 1
2:00 P.M.
Breakaway Round 2
Arena 2
2:30 P.M.
Team Roping Round 2
Arena 1






SATURDAY, MAY 18


Time
Event
Location
1:00 P.M.
Progressive Round
Lazy E Arena
7:00 P.M.
Progressive Round
Lazy E Arena


Progressive Rounds Order of Events:


1. Bareback Riding


2. Barrel Racing


3. Bareback Riding


4. Barrel Racing


5. Steer Wrestling


6. Saddle Bronc Riding


7. Steer Wrestling


8. Saddle Bronc Riding


9. Team Roping


10. Breakaway Roping


11. Team Roping


12. Breakaway Roping


13. Tie-Down Roping


14. Bull Riding


15. Tie-Down Roping


16. Bull Riding






SUNDAY, MAY 19


Time
Event
Location
1:00 P.M.
Final Round
Lazy E Arena