Watch underdog competitors go head to head with some of the best professional rodeo competitors in the PRCA, PBR, and WPRA as they compete for the biggest one-day payout in rodeo: $2 million.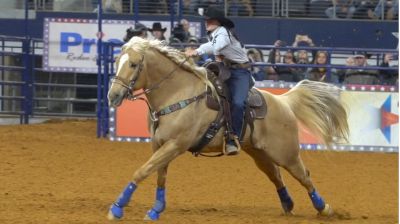 Epic 8: Hailey Kinsel's 14.217-Second Barrel Racing Run
Mar 8, 2019
This week, we're bringing you the winning runs and rides of RFD-TV's The American in epic slow-motion so you can see every moment of their victory in detail.
For our penultimate video in this series, we're featuring the cowgirl who won the event for the second time. Hailey Kinsel, the reigning world champion barrel racer, clinched her second title at The American with this 14.217-second run—and yes, that third barrel stayed up.
Catch every moment of the gritted teeth, tensed muscles and extreme athleticism it takes to win at the highest level of competition, and watch the entire replay archive of the event by clicking HERE.