Canada's highest-paying regular-season rodeo is the Ponoka Stampede in Ponoka, Alberta, June 26 to July 2. There will be long-score in the timed events, top stock in the roughstock events, and the best competitors in the world over seven days of rodeo action that culminate in the event's exciting finals and top-four showdown format leaves rodeo fans on the edge of their seats.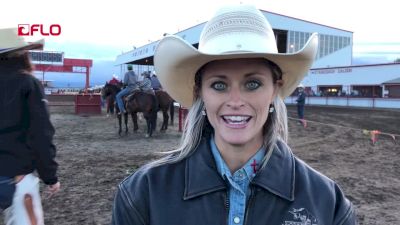 Stevi Hillman Makes It Through Grueling Few Days To Win Ponoka Stampede
Jul 6, 2018
Stevi Hillman was a little worried about her last run at the 2018 Ponoka Stampede. After a grueling few days of rodeo, Hillman had to make back-to-back runs on the final day of the rodeo between the finals and the showdown.
She had won round one and the aggregate, but she was worried about her horse becoming "tight" for the final run she had to make to take home the title. We talked to Hillman minutes after she made her 17.726-second run to win the aggregate with a time of 35.286.
Hillman not only went on to win the showdown, but she did it in spectacular fashion with the fastest run of the entire 2018 Ponoka Stampede. The Weatherford, Texas, cowgirl says she has a "secret" dollar amount she hopes to win during Cowboy Christmas, and we're guessing the $19,341.40 she earned throughout the week will get her a whole lot closer to her goal.
The 2016 and 2017 WNFR qualifier is currently sitting in the No. 20 spot in the WPRA world standings with her previous earnings of just over $30,000. Once her Ponoka Stampede earnings are added, she should fly up the standings several spots.