Over 500 rodeos across 33 states bring together the best youth athletes from the National Little Britches Association at their national finals each year. In 2017, 1,167 contestants competed for over $380,000 in awards and college scholarships.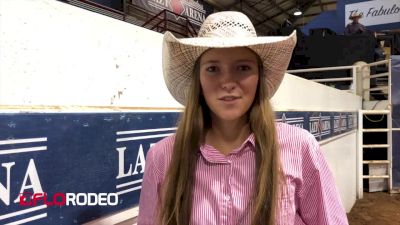 Look Out NLBRA All-Around Title, Hailey Humphrey Is Coming For You
Jul 15, 2018
When Nephi, Utah's Hailey Humphrey was asked what her main event was at the National Little Britches Finals Rodeo, her simple reply was "all of them." It wasn't done in a prideful way. She wasn't cocky; it was just a statement.
After a quick scan down each of the world standings leaderboards, it's easy to see why she would put it that way. So look out National Little Britches Rodeo Association world all-around title, Hailey Humphrey is (quietly) coming for you!
Watch the National Little Britches Rodeo Association Finals Rodeo LIVE on FloRodeo July 10-15 in Guthrie, OK.
"Honestly I'm just going to go listen to music or watch Netflix," Humphrey said of her preparation before the short round. "It's what I do before every rodeo, it's not a big deal," said Humphrey.
She came into the finals in the No. 1 spot in the senior girls all-around race with 2025 points, just ahead of her closest competition, who had 1998 points. The 16-year-old has amassed nearly 3,000 more points during the finals in her seven events, including sitting second in the breakaway roping world standings with 542 points, and eighth in the ribbon roping with 499 points.
When asked about her points coming into the short round though, Humphrey wouldn't know if she'd earned 1 or 10,000 points—in her mind, she's keeping competing at such a prestigious junior rodeo simple.
"It's just another rodeo to me, I come out here just to compete like I have all year," said Humphrey. "[I'm] not trying to make it a big deal for me; I'm just trying to keep my nerves low and compete like I always have."
Humphrey rides three different horses at the NLBRA Finals: "Rock," the 9- or 10-year-old bay gelding, is her breakaway roping, pole bending, ribbon roping, goat tying, and team roping horse. The gelding was also the 2017 NLBRA horse of the year.
Then she has two event specialists. "Hooker" is a 13-year-old mare that she barrel races on and says has that "mare attitude" that shows if she doesn't get out of her way during a barrel pattern.
Then to say her trail horse Dusty is "old faithful" would be an understatement. The chestnut is around 30 years old and has a long resume that includes multiple world championships in the NLBRA trail race.
At 16, Humphrey is on the younger side of the senior age category, and all-around titles can have the tendency to be won by the older, more experienced competitors. This cowgirl is extremely humble and wise beyond her years, but she cracked a smile at the prospect of winning the world title at her age.
"Yeah it's kind of a bragging right," said Humphrey with a grin. "But I feel like every person has the same chance to be where I'm at so age isn't but a number. Everyone has the same 24 hours in a day so as long as I work my hardest and they work their hardest, it's all fair."
The National Little Britches Finals short round begins July 15 at 10 AM CST.