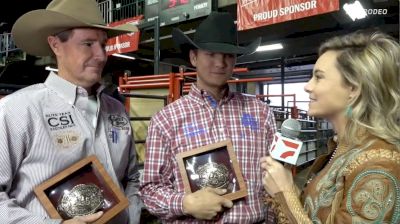 Record Breakers: Matt Sherwood & Hunter Koch Break Single-Season Earnings Record En Route To Canadian Title
Nov 6, 2019
They said before their last run at Westerner Park in Red Deer, Alberta that they might go for the arena record and - while they didn't break that particular record - they did break another: the single-season earnings record. The previous record was held by Levi Simpson and Jeremy Buhler who earned $59,006 between the regular-season and the finals in 2017, but Sherwood and Koch raised that bar substantially with their $74,616.07 and $76,728.86 respectively.
That whopping number was thanks in no small part to the pair's impressive performance at the finals that included three go-round wins (which will also tie the current record), and the win in the aggregate.
Watch full archives of the 2019 Canadian Finals Rodeo HERE.