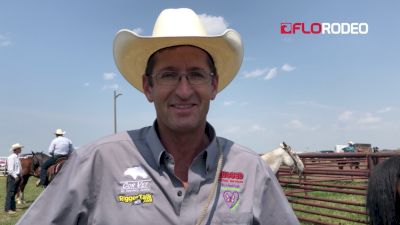 Al Bouchard Leads Strathmore On Route To His Possible 18th CFR
Aug 4, 2018
Al Bouchard is one of the most—if not the most—decorated Canadian tie-down ropers heading down the CPRA trail today. That may mean he gets called "The Veteran," but this veteran can put together fast runs and win any rodeo he puts his name on the entry list for.
"Big Al" went to the lead at the 2018 Strathmore Stampede after the first performance with his 7.8-second run on Friday afternoon, showing his skills and knowledge of "the game" on fresh calves that were making their first run at a rodeo.
Watch the Strathmore Stampede LIVE on FloRodeo August 3 to 6, 2018.
"That was a pretty good calf, I was looking in the back pen at him and I thought he looked like one that wanted to play a little bit," said Bouchard. "Really I didn't do nothing special, I just roped him and tied him up."
Bouchard goes into a fresh-calf situation with a flexible frame of mind. He builds his initial plan around the best calves in the pen, but keeps that plan open to adjustments, depending on how the calf runs.
"When you run into a fresh pen of calves like this pen, you just try to figure out what the good ones are and think about trying to score just for the good ones," Bouchard said. "If you have one that's going to run a little harder – but you don't really know it until you nod your head – so if he runs a little harder you just plan on taking an extra swing to catch him and if he's good? Well then, throw it."
Bouchard mentioned before the interview that it took a lot to sneak away from his business for the afternoon to run his calf at Strathmore, and even after going to the lead at Canada's third-highest paying rodeo, Bouchard said it was "back to work" for him as soon as he collected his rope can and piggin' string.
"My Brother Chad Bouchard came three hours to drive my picker truck," said Bouchard in a Facebook post. "Nathan Sanford put off his holidays and Brooklin Sugar worked her tail off, just so I could sneak off to run this calf in Strathmore. I am very lucky to have these people in my corner."
The 17-time Canadian Finals Rodeo qualifier — who won the Canadian tie-down roping title in 2009 as well as the Calgary Stampede in 2005 and the Pendleton Roundup in 2007 — doesn't show any signs of his talent running out. The Scandia, Alberta, cowboy is sitting in the No. 9 spot in the Canadian Standings and should move up a few notches once his second and third place split at High Prairie is added to his total.
When asked about how many CFR qualifications he'd like to see next to his name before retiring, Bouchard called on one of Canadian rodeo's great tie-down ropers of the past to set the bar.
"Larry Robinson made it 19 times, and that was my hero, so…" Bouchard said with a nod of the head.
With the speed, consistency and all-around ability to win Bouchard shows – our only question is: why stop there?