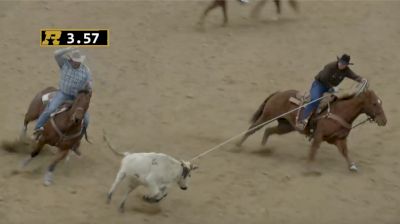 With 3-Hundredths Of Second To Spare: Smith & Purcella Win World Series Of Team Roping #14 Finale
Nov 19, 2019
How would you like to win a couple hundred thousand dollars by a margin as small as three-hundredths of a second? That would be enough to make anyone's brow sweat a little, but that's the kind of pressure that world champion Chad Smith and superstar heeler Steve Purcella live for.
The pair made their final run in the #14 Finale look easy as they roped their way to the pay window.
Watch the 2019 World Series Of Team Roping Finals in Las Vegas, Nevada LIVE on FloRodeo December 7-13. Click HERE to watch.
Video courtesy RidePass