Create a free account to unlock this article!
Get Started
Already a subscriber? Log In
Canadian tie-down roper Walker Warkentin headed down to the 2017 Junior NFR in Las Vegas after showing his stuff earlier in the season and receiving one of the coveted invites to the "big-little show." Warkentin had some success during his debut at the Junior NFR, placing in the average against some of the best talent in Roy Cooper's 13-and-under tie-down roping category.
This youngster has a quiet wisdom that is well beyond his 14 years, with hobbies that include travel, some reading, and of course regular "kid stuff."
"Recently I traveled to Belgium and France and hope I get to travel more," Warkentin said. "Right now I'm reading 'Animal Farm' and '1984' by George Orwell, but mostly when I'm not competing, I'm doing homework."
Warkentin is off to a good start in 2018 as well. He had some success in Ponoka, Alberta's "Spring Thaw" team roping early in the season and then winning the tie-down roping at the Junior High School Rodeo in Calgary, Alberta just last weekend.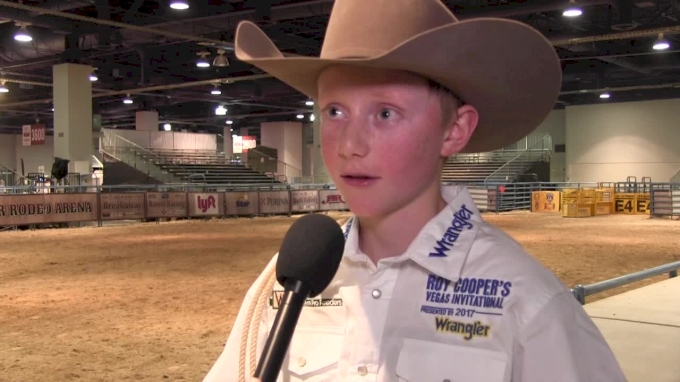 Create a free account to unlock this video!
Get Started
Already a subscriber? Log In
Walker Warkentin
Hometown: Calmar, Alberta
Age: 14
Events: Tie-down roping, team roping, ribbon roping, goat tying, and I've also dabbled in reining cow horse.
How did you get your start with rodeo?
I've been riding since before I could talk. My mom made me take riding lessons, jumping, dressage, and horsemanship, but I didn't really get serious about my roping until I was 10.
That's when I knew this was the sport I loved.
What are some of your biggest accomplishments to date?
Some of my favorite accomplishments to date are:
Winning the calf touch at La Fiesta de Los Vaqueros in Tucson in 2017
Making the short-go at Chris Neal's 2016 Future Stars Jr. Calf Roping
Winning eighth out of 1,100 teams at NTR in Rapid City 2017
Qualifying in 2016 and 2017 for the Rodeo Future Champions at the Canadian Finals Rodeo
Winning the year-end 12-and-under and 17-and-under at Ponoka Riding and Roping Association in 2017
What do you like to do when you're not competing?
I love to hang out with my family, play basketball, golf, badminton, baseball, hockey, and run track.
Who is your greatest rodeo mentor or role model?
My favorite people to watch rope are Cory Solomon and Tyson Durfey, and my favorite team ropers are Kaleb Driggers and Junior Nogueira. My dad is my best coach, though.
What is your favorite song?
"Dirt On My Boots" by Jon Pardi
What is your favorite food?
Pizza, and homemade mac and cheese
If you would like to be featured as one of FloRodeo's Rising Stars, fill out our online form HERE.